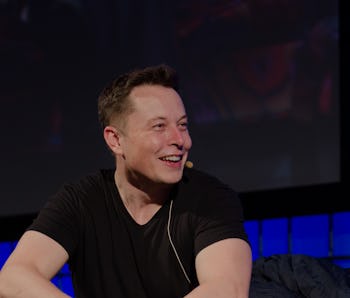 Culture
Elon Musk Finally Deletes "Hannah Montana" Tweet About Montana Skeptic
The internet is weird and gross.
Heisenberg Media
Elon Musk's recent declaration that he would try to "say less" more often on Twitter has come in fits and starts. Early Thursday morning, Musk shared one of the more befuddling messages since the regrettable "Pedo" incident, an image of Miley Cyrus grinding with Robin Thicke at the 2013 MTV Video Music Awards.
The tweet was sent at around 6:51 a.m. Eastern time, nearly 4 a.m. in the morning in California where most of Musk's ventures are based.
The tweet was a reply to what appeared to be Tesla fans who were joking about the so-called Montana Skeptic, a short-seller and blogger who, it has since been revealed, has some exposure to the oil and natural gas industry. "Montana is a girls name, no, like in "Hannah Montana"? Musk replied with a quip and the famous image of Cyrus that was widely shared after the controversial set.
The Montana Skeptic has received a fair bit of blowback over the Tesla short and his coverage, mostly written for the stock market blog Seeking Alpha. Earlier this week, the pseudonymous trader and blogger shared a post saying that Musk had contacted his office and as a result he was deleting his Twitter account and planned to cease blogging. Tesla told Inverse earlier today that the Montana Skeptic's boss is a "longtime Tesla supporter."
Elon Musk is hardly the first CEO to spar with short sellers, traders who seek to profit by betting that a company's stock price will fall. Short sellers have a mixed reputation, but though they are often treated as unscrupulous opportunists, a great deal of research has vindicated them as being "sophisticated investors with superior information processing capabilities."