Wireless Charging Is Getting Good Enough for Us to Ditch Cords Forever
The race to cut the final cord is on.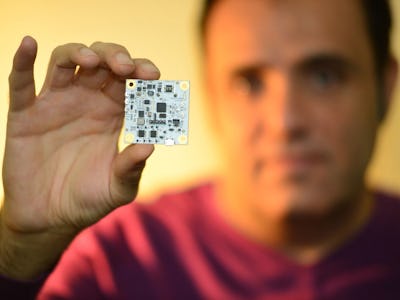 Ossia
Ossia, the Washington-based firm that wants to ditch the smartphone charging cable to enable truly wireless charging says it has made a breakthrough. On Thursday, the company revealed a firmware change that can send power over the air at higher frequencies with better targeting.
"The higher frequency Cota systems will provide new opportunities and expand the possible use cases for wireless power," Hatem Zeine, founder and CTO, said in a statement.
The current Cota Tile prototype sends power over the 2.4 GHz frequency, over 30 feet with one transmitter or 50 feet with two. The system can charge multiple devices, even if they're moving or they don't have a direct line of sight with the transmitter. The changes to the firmware means a 50 percent increase in the power received at the device. Previous prototypes delivered less than a watt of energy, far less than the five-watt rating of regular chargers.
The company has also revealed an upgrade that will operate in the 5.8 GHz band. This will enable the use of more antennas on a transmitter the same size as previous iterations, while also increasing the amount of power delivered to a receiver.
However, you may have to wait a while before buying a Cota-charging smartphone. While Zeine told Inverse in April 2017 that "it would be safe to say" products will hit shelves in 2018, a company spokesperson now tells Inverse that the timescale has slightly shifted. Expect products to enter the prototyping stage by the end of this year, or early next year.
"Ossia's innovation opens many doors for Cota licensees," Mario Obeidat, Ossia CEO, said in a statement. "By linking Cota transmitters with the increased power delivery potential, businesses can provide more power to more devices at a distance within an even larger space."
Ossia demonstrated the technology to Inverse in a closed-doors event in April 2016, and we were impressed at the time. But since then, Ossia's rivals have gained ground.
Indeed, rumors recently suggested Apple may adopt Ossia competitor Energous technology for a future iPhone launch. Since then, though, Apple and others have adopted Qi wireless charging to deliver power to devices while resting on a pad — not quite wire-free, but certainly an improvement. When Apple announced the Qi-based AirPower charging pad and iPhone X in September 2017, Energous stock dropped 21 percent.
The quest to cut the final cord may have seemed in doubt when Apple adopted Qi, but its biggest proponents haven't given up hope just yet.