Hasbro's Bluetooth Bumblebee Helmet Will Transform Your Cosplay Experience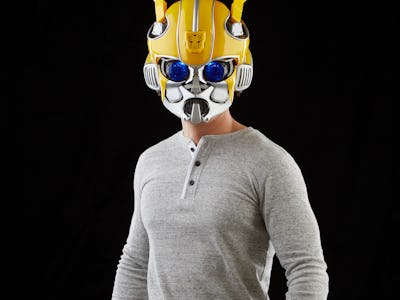 Hasbro
If, for whatever reason, you're keen on cosplaying as the adorable Autobot known as Bumblebee, the yellow Transformer starring in his own movie later this year, Hasbro just made it a lot easier to look like a robot in disguise.
In an Inverse-exclusive ahead of San Diego Comic-Con, Hasbro is revealing the first wearable item in its new, retro-inspired "Studio Series" line of toys. The H-01 Bumblebee Showcase Helmet is a wearable, glossy helmet molded exactly like Bumblebee as he appears in his new film. Bumblebee, a prequel to the Transformers movies hits theaters on December 21.
The helmet will retail for $79.99 and be available in early winter 2019.
Like a real Transformer, there's more than meets the eye. The mask comes with a built-in Bluetooth speaker, allowing you to connect any device so you can play music just as Bumblebee does. It also features 25 pre-recorded sounds and phrases from the film.
Hasbro, which also produces Marvel toys, is no stranger to replica, cosplay-ready items. In its Marvel Legends line, Hasbro's released wearable Iron Man and Star-Lord helmets, as well as full-scale weapons like Captain America's shield and Thor's mighty hammer, Mjolnir. The items are clearly designed to cater to cosplayers, and the new Bumblebee helmet is no different. Of course, it's up to you to design the rest of the costume, but the helmet is a great start.
The Bumblebee helmet will be a Target exclusive and available in early winter 2019. Sadly, that means you'll miss Halloween to show off your sweet costume, but at least that gives you another year to really nail the details. Heck, with all this extra time, you should be able to make it transform.
Bumblebee his theaters on December 21.