How Cosplay is Taking Halloween to the Next Level
The Halloween industry is looking to cosplayers to up its game.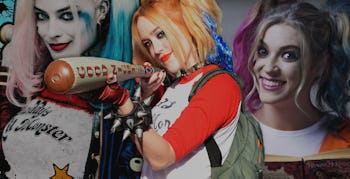 Getty Images
If you've popped into a Halloween store and noticed that the off-the-shelf stuff has become a little more intricate than you remember, you're not in the Twilight Zone.
While Halloween is just one night of the year, for a select few — most of whom you'll find inside the halls of Comic-Con — the more elaborate hobby of cosplay is an all-year affair. For some, even a way of living.
A portmanteau of "costume play," cosplay is a form of costuming and even role-playing where more time, effort, and patience is spent into creating costumes. While most cosplayers simply want to look accurate, some take it as a performance art, in which cosplayers "become" the characters they're dressed as. Either way, cosplay is a bit more hardcore than Halloween.
But as cosplay becomes more mainstream thanks to blockbuster superhero movies and Game of Thrones, leaders of the commercial Halloween industry, which will reach record heights as 9.1 billion dollars is spent on the holiday this year, are starting to turn to these homemade experts to elevate the off-the-shelf wares, blurring the lines between hardcore enthusiast and casual partygoers.
"Pop culture really drives costume sales," says Devin Rubinik, spokesperson for HalloweenCostumes.com, one of the largest commercial producers of Halloween costumes. Though the generic staples like cowboys and cheerleaders are still sold, it's the iconic movie and TV characters that attract more dollars. So to capitalize, and to survive, the company has spent the last few years reaching out to cosplayers who, in effect, field-test the products.
The exchange between HalloweenCostumes.com and cosplayers is more about product feedback and exposure than employment. While some cosplayers do work at the company's Minnesota headquarters, there is no roster of cosplayers who make costumes on a conceptual or production level. Instead, the retailer sends out product to various cosplayers, who offer input or even use the items in tutorial videos and Instagram posts.
It seems to be working. Recently, the company teamed with cosplayer Alexa Poletti (416,000 subscribers on YouTube), who used HalloweenCostumes.com's products to become an accurate Pennywise in her new DIY tutorial series. Both of Poletti's videos, which links to discounts, have a current combined total of 238,000 views since they were uploaded in early October.
"They give honest feedback on what works and what doesn't. We're developing these costumes so we want to make them even better," says Rubinik.
The effort to move into cosplay, besides being a way to improve and promote products, is also perhaps a solution to an image problem. Since the late 2000s when cosplay emerged on the internet, it was common to hear veterans advise newbies to avoid store-bought costumes. Generally speaking, Halloween costumes were of subpar quality, made to be used once, maybe twice, before being disposed of. They also eschewed accuracy for value, counter to cosplay principles. Search cosplay forums and blogs and it's not hard to see this tip given out like it's a live-or-die survival tactic.
"It's something we really started to focus on in the past couple years," Rubinik says of the ongoing outreach to the cosplay community. "We provide product and they provide feedback and we trust their judgement."
One could easily assume that cosplayers, who impress bystanders year round with elaborate outfits, would take the opportunity to show the rest of us normals how it's done on Halloween. But in speaking to cosplayers and perusing forums, Halloween is a vacation, a practice run, even an excuse to not dress up at all.
"Halloween is a time to be spent with friends and strangers who are not in the same niche comics/animation sphere as I am," Marlene (@ilikecomicstoo), a ten-year cosplay enthusiast, tells Inverse over email. "Few will know if I dress up as Blue Beetle. I'll also probably suffocate in neck-to-toe layers. Going as something mainstream or original is a better option."
Last year, Marlene says she and her significant other went as "each other," a classic and easy couple's costume, and it was a hit among their friends. It was a genuine surprise, at least to myself, to hear this from an individual who takes costuming seriously every other weekend.
"For me Halloween is its own special event, and I try to never re-use cosplay outfits for the parties," says another cosplayer, Margaret (@Xfilesmaven), over Twitter direct message. She explains that the context of Halloween — a season celebrated by all — is different than Comic-Con, where it's a celebration of fandom and a commitment to character. "The feeling is different," she says.
One key contributor to how cosplayers behave differently on Halloween is the simple fact that cosplayers are in a more controlled environment at Comic-Con than Halloween, where bar crawls and parades are chaotic house parties are unpredictable. "At a convention I know what I'm in for — walking around a lot, maybe taking pictures, and meeting my fandom friends," says Margaret. "Halloween, you run into a broader variety of things to handle (especially as a party host or walking in the NYC Halloween parade) so not having to worry about your outfit's integrity is nice."
While cosplayers like Marlene still "encourage" anyone to go all-out on Halloween, she says that it's important to know the stakes are different. "I would invest time in doing something creative that can be appreciated by everyone." At Comic-Con, you'll find Marlene dressed as niche characters like Princess Allura from Voltron, Marvel superheroes like Ghost Rider and America Chavez, and Stevonnie from Steven Universe. This year for Halloween? "I'll probably paint my face and go as a demon or pop some horns and go as a fawn," she says.
This is not to say HalloweenCostume.com's efforts are in vain. With an estimated 9.1 billion to be spent this year, there's an entry for enthusiasts of all types to try something out. "Cosplay is becoming a norm. That's provided a boost for Halloween," says Rubinik. "It's become more inclusive and more a cultural thing. This year is set to reach a record high, and that just attributes to how popular it's become. We're always looking to work with the cosplay community, and hopefully they'll be willing to work with us."
And who knows? Maybe even the excitement over a successful Halloween leads customers to something greater. Says Margaret: "Everyone's something they love on Halloween. When you want to make that magic last all year, you become a cosplayer."