Critics Really Hate 'Transformers: The Last Knight'
"Either this movie is dumb or I am."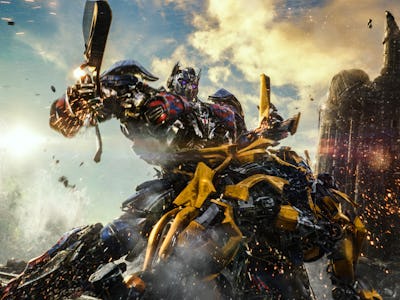 Paramount
It's been a long ten years since Michael Bay's first Transformers hit theaters. Now, in 2017, the series' fifth installment, Transformers: The Last Knight — starring Anthony Hopkins, Laura Haddock, and a returning Mark Wahlberg as his Cade Yeager from 2014's Transformers: Age of Extinction — presents another cataclysmic, end-of-world scenario. This time, Autobot leader Optimus Prime is on the other side of the war. But, even such a dramatic shake-up to the Autobot armada isn't immune to critics. On Tuesday night, reviews for The Last Knight began rolling out. Although expectations were already low, the, supposedly, final Bay Transformers movie is upsetting on a whole new level.
Overall, reviews are calling The Last Knight dumb, unfunny, and utterly incoherent in a way no Transformers has been before. There's nothing wrong with dumb movies, it should be noted, but it's a big ask to make audiences work to keep up with the action.
It can be exhausting, a feeling Uproxx's Mike Ryan expresses in his review. "It's one of those movies that is silly enough at first that it can be a little fun to gawk at the ridiculousness of it all, but at just under two and a half hours, it's unsustainable," he writes. "It just makes you tired. And by the time the submarine battle happens (there's a submarine battle and no Transformers are involved) I just wanted to rest my eyes."
Matt Singer of ScreenCrush appears more peeved at The Last Knight in his review. "I challenge anyone — including this film's four writers — to explain the story of Transformers: The Last Knight, how the characters get from point A to point B, and why any of it matters," he writes as his lede. "I maintain that it cannot be done. Either this movie is dumb or I am."
Singer then concludes his review with this: "The Last Knight is not, in any conventional sense, entertaining or good, although parts of it are spectacular. Michael Bay, a filmmaker with genuine and unique skills, has now wasted most of a decade chronicling the adventures of Optimus Prime."
Julia Alexander of Polygon is slightly more generous, writing modest praise for the film's first and second acts but found the climax a betrayal of that good will. "The Last Knight needs to be more than a traditional Transformers movie, and it needs to be more substantial than something pretty to stare at for close to three hours," Alexander writes. "What's aggravating about the film is that it almost accomplishes that."
She adds:
"The originality, humor and story that Bay brought to most of the film is admirable, but any ounce of joy that comes with watching The Last Knight quickly disappears in that third act. Instead, you'll spend the rest of the film anxiously bouncing your knee, trying not to kick the seat in front of you, wondering how long a movie could possibly be."
A hammy Sir Anthony Hopkins, an already prolific actor whose image was re-energized last winter from HBO's Westworld, is garnering some praise from critics. Angie Han of Mashable called Hopkins the film's "secret weapon" and "who seems to be having the time of his life as Burton, perhaps because he gets to drop the dignified gravitas or once and play up his goofy, eccentric side." But Hopkins alone isn't enough to save The Last Knight, a point that Han makes clear in her review.
"I can't remember the last time I felt so little while watching a movie," Han says, "I wasn't even bored, so much as just dazed, like I'd woken up in someone else's dream. Transformers: The Last Knight isn't a particularly good film – it's overstuffed and incomprehensible, hampered by bizarre narrative choices and inconsistent pacing."
Johnny Oleksinski of the New York Post is utterly unforgiving. "Sadly, Hopkins has been given material that's no more clever than the series' usual bottom-scraping racial stereotypes and boneheaded humor. Watching an actor of Hopkins' caliber swear at his robo-butler and attempt to wring out laughs by uttering the word 'dude' is painful — even for a Transformers movie." Oleksinski ends, "Let's just hope that The Last Knight is the last Transformers."
Some somewhat positive, if also backhanded reviews, came from the New York Times ("[F]ar from the worst in this continuing experiment in noisy nonsense based on Hasbro toys"), The Hollywood Reporter ("It's all an overstuffed mess, but that was true of the previous entries as well, and audiences obviously don't seem to mind"), and IndieWire, where reviewer Eric Kohn writes:
"In these transparent times, when the ills of capitalism are no longer hidden under the guise of moral superiority, the sheer absurd cash grab of The Last Knight feels like more than just a commercial coup. It's the zeitgeist. Just go with it."
But Bilge Ebiri of The Village Voice has the most damning and eloquent review, titled "Here's What the New Transformers Movie Is Like" that, in my honest opinion, sums up a lot of the Transformers saga as a whole:
"okhvk;OFIavomitousdischargeofplotpointsbeuuauuq3c2i;C HIfihiehfeshliketheresachosenonehereandanotherchosenoneJK ljjkfaejjeexkandmultiplesacredobjectsmlecjaje;lfja;eaejl;a33itm jafcandjesusatonepointhteyevenhavemarkwahlbergutterarthurcclarkes famousquoteabouthowanysufficientlyadvancedtechnologywillbe indistinguishablefrommagicohgodstopcnhfhplerafffkalkqh jsgfffrkitsalloverloadandoverkillandchaoszcsmwmezzeajcjeaa pflikeyourshoppingbagburstandsplatteredrobotsalloverthefloorlchdqh ;3dbutwelostthiswaralongtimeagokrcifhahaeifiajekjj,l ekjfwhatdoyoudowhenthesignalbecomesthenoisezclkhwa4 friaghskfbandyoucannolongertellthedifference."
Transformers: The Last Knight is in theaters now.