Michael Bay's 'Transformers 5' Set Footage Is Total Bayehm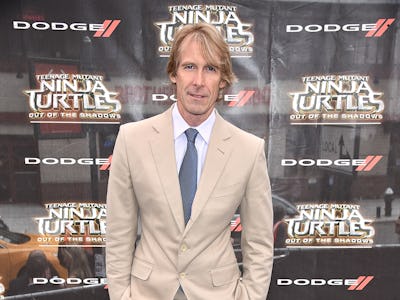 Getty Images / Dimitrios Kambouris
Director Michael Bay is hard at work on the fifth Transformers movie — subtitled The Last Knight — and thanks to his Instagram, we already know it's going to be really, ridiculously explosive. Bay has already shot footage in Havana, Detroit, Phoenix, London, and Chicago, but a new behind-the-scenes clip shows he's saved the most absolutely bonkers stuff for production in Scotland.
Bay used the social media opportunity to give fans a look at a few things. First: The neon green handheld camera custom created for him by the fine folks at RED that they've affectionately named the "Bayhem." Cute, huh? Apparently it was designed to Bay's personal specifications because his gritty shooting style is so extreme.
The other thing of note is the absolute, well, mayhem on display in the scenes Bay is capturing on his swanky new camera. We've got explosions, debris showering down everywhere, stuntmen being flung yards away, copious amounts of gunfire, and helicopters in the background that may or may not be part of the carnage. In sum, this is a Michael Bay movie through and through – and it looks glorious.
And just in case you think the Bayhem is only used for ridiculously expensive blockbusters, Bay also previously posted a short video of him using it to shoot a Victoria's Secret ad, because, well, he's Michael Bay.
As for the Transformers footage, the only unfortunate part is that we don't really know what's happening in the scene. Once we get a chance to peep the final footage on the big-screen there will undoubtedly be a handful of gigantic Autobots and Decepticons battling in between all the human soldiers.
Kudos to Bay for using all these practical effects to use as a good base for the super expensive CGI that will be inserted later. It's easy forget that these Transformers movies aren't all just made up of ones and zeroes in a computer.
A ton of Transformers: The Last Knight news has broke recently besides this small clip. Actor Liam Garrigan was tapped to play King Arthur in the film, leading fans to speculate on whether the movie will ape the "A Decepticon Raider in King Arthur's Court" storyline used in the old 1980s cartoon, as well as the fact that Merlin the wizard will feature prominently in the movie too.
No official synopsis has been released yet, but expect Autobot craziness in King Arthurs court as well as in the modern day.
Transformers: The Last Knight assembles in theaters on June 23, 2017.