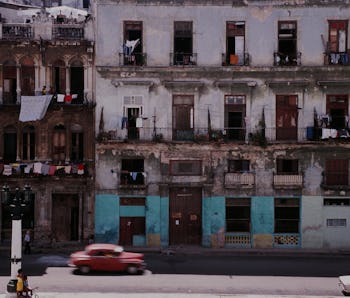 Entertainment
Havana Is Ready for Its Close-Up
What happens when Hollywood invades Cuba?
www.flickr.com/photos/antonnovoselov
Hollywood can't wait to shoot Havana.
In May, the Obama administration took Cuba off the United States' terror blacklist after more than 50 years of diplomatic isolation. Now here comes the capitalism.
About two weeks before the embargo lifted, a delegation of about 20 showbiz types headed down to Havana on a humanitarian mission of sorts, to figure out what the entertainment industry has in store for Cuba.
Gotham showrunner Bruno Heller and screenwriter Micah Fitzerman-Blue spoke to the Hollywood Reporter about the trip. Of particular interest was this quote from Heller, who sounds like he's in a hiring mood:
As a location, it's a fabulous place. If you need to shoot the Americas 50 years ago, everything is there — gorgeous buildings, countryside, sand, sea and the rest of it. But as far as the infrastructure that you could plug into and Hollywood expects, that could take quite a while — as long as it takes for the U.S. and Cuba to come to rapprochement, and the Cuban people and Cuban emigres to come to rapprochement, that's how long it will take. It needs a huge influx of trusting investment. The potential is vast because you have a pool of highly educated, highly motivated people who are hungry and ready to rejoin the greater American society that they've been kept away from. The dancers, the singers, the writers, the animators — the one thing that has happened because of the paucity of any other outlets is that they have placed a great deal of their intellectual resources into the arts and cultural forms. There is going to be a huge explosion of talent once Cuba is allowed to express itself in the modern world. When we walked around the city, wonderful ancient singers belting it out really caught my ear. I was thinking about a character like that, the idea of someone from an ancient culture that has been hidden away and is just coming into the light again. But obviously that's a solipsistic way of looking at it — they've been there all along.
No mistake, the Castro regime has left Cuba in rough shape, but descending on old buildings and old cars to hustle them into period pieces will require forbearance. Get ready for the poverty porn — Hollywood celebrating the charm of a place stuck in time by rushing in and … well, there's no telling yet. The place truly is beautiful, as Instagram already knows, below. Lush, rustic Havana will wind up on your TV, in your movies. What happens then to the singers and painters and illustrators has yet to be seen. Maybe Hollywood is tourism writ large. Or maybe it will do some serious hiring.