The New 'Transformers' Movie Is a "Lower Cost" Bumblebee Spin-Off
Get ready for more robots in disguise, now with their own standalone movies.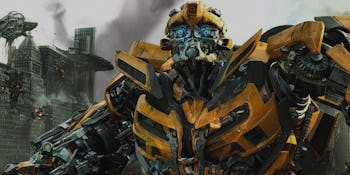 https://www.facebook.com/transformers/
When Paramount announced three Transformers sequels it was obvious they were trying to get into the cinematic universe game to try and match the multi-film success of something like Marvel or Star Wars. Director Michael Bay is set to continue the big, unwieldy, and stupidly expensive robots-in-disguise franchise with Transformers 5 set to be released on June 23, 2017. Then, after that, there are set to be more adventures of hulking CGI robot cars fighting each other with Transformers 6 scheduled for roll out on June 8, 2018 and Transformers 7 ending the new trilogy on June 28, 2019. But it turns out, the next three movies won't be a trilogy at all.
Rumors swirled after Paramount made the triple feature announcement about potential spin-offs, but lo and behold, just like a Transformer itself, there was a spin-off hiding in there from the start.
Per The Hollywood Reporter, Transformers 6 will actually be a Bumblebee spinoff, with an entire movie dedicated to the sprightly yellow bot that's been a sidekick to bigger transformers since the beginning.
"There are characters in the Transformers universe that can be and should be made into their own movies," Paramount chairman and CEO Brad Grey explained to The Hollywood Reporter. "We will make the first movie with Michael [Bay] and go right into a Bumblebee movie, which will be at a lower cost."
Considering the last Transformers movie was made for an estimated $200 million or more, anything could be considered a "lower cost." But also taking into account the fact that the Bumblebee doesn't have a voice and only talks via the radio in his transforming innards, it should give you an idea of where there emphasis lies: less chit-chat and more huge robots running away from massive explosions. Cue the sick guitar solos. If they can make an experimental Transformers movie, then more power to them, but it's all according to the moneymaking plan to sell more toys and milk as many movies as possible.
Get ready for a different kind of cinematic universe when Bumblebee bumbles into theaters on June 8, 2018.