Tesla Model 3: Elon Musk Reveals 'Pure Fun' Performance Edition Details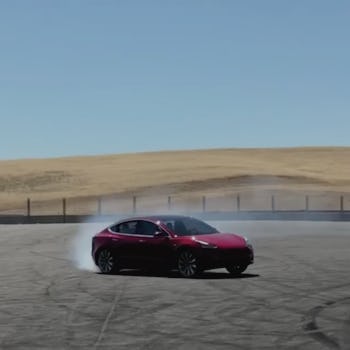 Tesla/Instagram
The Tesla Model 3 is gearing up for high performance. On Friday, CEO Elon Musk revealed new details about the upcoming $78,000 performance edition of Tesla's cheapest electric car, which promises a faster acceleration time and higher overall top speed — and, as Musk puts it, it feels "like having pure fun jacked straight into your brain whenever you want."
The new edition is the first major upgrade to the $35,000 car since Tesla started production in July 2017. Tesla missed an initial goal to produce 20,000 cars in the month of December 2017, but eventually reached a production rate of 5,000 cars in one week at the end of December. The performance edition makes a number of key changes: on Friday, Musk revealed that the performance edition's coil spring suspension system is one centimeter lower than the standard car, with stronger sports-level brakes in the upgrade package paired with the previously-revealed red calipers.
Excitement is building around the new edition. The company started taking orders for the new model in May, offering $1,000 reservations holders the option to place an order and wait a little longer for a machine that offers higher performance. Musk revealed earlier this week that the company has made around 100 of the new vehicles for test drives in stores.
The car offers the same 310-mile range as the $44,000 version of the Model 3, but with a top speed of 155 mph compared to just 140 mph. It also clocks an acceleration time of 0-60 mph in 3.5 seconds rather than 5.1 seconds. The car also offers black and white interiors, as well as a carbon fiber spoiler and 20-inch performance wheels. The asking price also includes paint, options and wheel changes as part of the price — but the semi-autonomous Autopilot mode still costs extra. The car also includes a dual motor upgrade with an AC induction front motor optimized for power that complements the partial permanent, switched reluctance magnet rear motor optimized for range. The dual motor is available on standard cars as a $5,000 extra, but the performance edition chooses the highest-rated motors for better results.
Musk claims the new edition will hit roads "very soon" — and with Tesla testing the car's skidding capabilities on a test track in new public videos, it seems they've had a lot of fun with development.
Tesla's existing cars are no slouch, though, and the company is planning a premium $200,000 second-generation Roadster with 0-60 mph in 1.9 seconds, scheduled for release in 2020.