If You Liked 'Dark', You'll Love New Netflix Series 'Freud'
Tell me about your mother.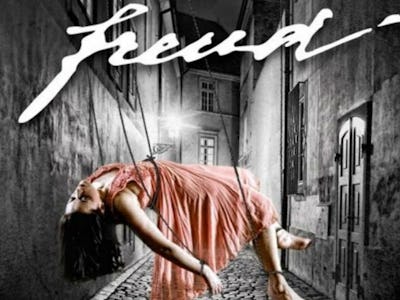 Bavaria Fiction
There's a new German-language thriller coming to Netflix and it features an unusual hero. Following the success of Dark, Freud is an upcoming detective show featuring a young Sigmund Freud on the hunt for a serial killer terrorizing the streets of 19th century Vienna.
Yes, that Freud, the famous Austrian neurologist who founded the field of psychoanalysis and is responsible for ideas such as the Oedipus complex and the death drive. In this rather liberal interpretation of the scientist's life, Freud was the brains of a crime fighting trio, according to a report from Variety. He will be joined by police inspector Kiss and psychic medium Fleur Salmoné.
Netflix is launching Freud as an eight-part miniseries, but, ironically, Austrian viewers will only be able to watch it through their local broadcaster Österreichischer Rundfunk (or ORF).
Helming the series is Marvin Kren, primarily known as a horror director who most recently worked on the crime drama 4 Blocks. Kren is joined by writers Stefan Brunner and Benjamin Hessler, both of whom he has collaborated with in the past. The cast has not been announced at this time.
At first glance, the premise of Freud sounds zany, but it's actually a great fit. Abraham Lincoln: Vampire Hunter is a better example of grabbing a celebrated historical figure and crafting a wild story around them. There's not much in Lincoln's actual life that has any connection to vampires. He was a good wrestler, but if that's the case, the judo throwing and calvary charging Theodore Roosevelt would've been a far better kicker of vampire asses.
But Freud moonlighting as a sleuth is an easy sell. In fact, Freud's work laid down the foundation for criminal psychology. Thanks to him, actual police have been successfully profiling and capturing serial killers for years.
And hey, maybe he'll even bump into NYPD police commissioner Teddy Roosevelt.
Freud has no set release date yet.