Pathologist Carla Valentine Will Teach You How to Die Fearlessly
"The people who think about mortality tend to have the highest happiness rate."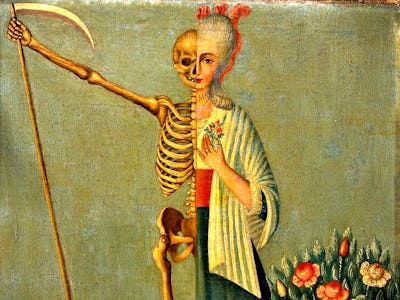 Wikimedia Commons
Ambitious technocrats may predict a deathless future, but as the world stands now, we're all going to die. This leaves us humans with the same two options we've had since we emerged from the evolutionary mire: Fear the final shuffling of our mortal coils, or embrace the inevitability that we'll all be one with the dirt.
Fortunately, there are people out there who can help ease your mind about the whole "one day you'll be dead" thing. One of those people is Carla Valentine, whose job as an anatomical pathologist, technical curator at Barts Pathology Museum, and author of The Chick and the Dead, has more than prepared her to come face to face with the inevitable end. In her book, which will be released in the United States in June, she weaves together corpse science and her intimate involvement with the "death industry" with the vital lesson about dying she's learned over the years: Everyone wants to learn more about death whether they admit it to themselves or not, and accepting that education is the best preparation for their final days.
Valentine, whose book will be released in the United States in June, recently spoke to Inverse about the CSI effect, the future of "soul midwives," and urban legends that just won't go to the grave.
Why was now the right time to write this book?
There are two reasons, really. There is definitely more of a desire at the moment for people to speak about death and learn more about it. That's been on an upward trajectory. That just happened to coincide with when I left my career as a full-time pathology technician and I began to work at the museum, which gave me more free time to actually start to write.
What do you think has driven that increased interest in talking about death and learning about it?
When I first studied forensic science, which was 15 years ago, there were barely any courses. Those courses began to increase with what we call the "CSI effect". That's an actual academic term now for the interest in death and autopsies that has emerged from the increase in books and TV shows on the topic.
I think another issue is just the cost of funerals, like many things, is rising. People want to be a bit more informed and demystify the process around death so that they can plan properly and just dispel a lot of the myths before the time comes. There have always been a lot of myths around autopsies and how we conduct them. I think people just want to know the truth and it's a good time for it.
What do you think people gain when from learning about what happens to their body after they die?
Personally, I think that when people face this idea of their mortality, the reality of it, and the reality of what may happen to their family members, for example, they tend to live a better life. They tend to understand how quickly it can be taken away. They can appreciate their own mortality and their own health. That was always what I felt and that's been backed up by psychological studies, as well, which I reference in the book. The people who think about mortality tend to have the highest happiness rate. I think it's because it demystifies it. People say that you're afraid of the unknown. Sometimes it's better to face the reality of it. Then it's not so scary anymore.
Do you get consistently the same sort of questions from people when they learn about your job?
I get consistently the same sort of questions and I get consistently told the same myths. Those absolutely drive me insane. I took as much opportunity as I could to answer all of the questions that I always get asked in the book. A lot of these myths have been doing the rounds since I was a child. For example, I was at the hairdresser's yesterday, and the girl in the chair next to me overheard that we were talking about my job, and she said, "It's true, isn't it, that the fingernails grow and the hair grows after death?" I was like, "No it's not like that." I've heard the same things for 20 years.
What else do people get wrong about death?
People also think the deceased sit upright because of their gases, which is not true at all. Some deceased people are possibly in a state of rigor mortis, where they've passed away in a chair and so that means for a while they'll still be in a bent-over position. They'll look slightly like they're sitting up when they're on the slab. But they don't sit up because of the gases. There are the odd groans or burps or farts. That is true.
The most annoying urban legend is the one where someone tells me, "A friend of mine knows someone who got a rash and when she went to the doctors she found out that it can only be caught from a corpse." Basically insinuating that the guy that she'd had sex with or whatever has had sex with a corpse. That always drives me insane because there's nothing on a deceased individual that isn't on a live individual. We have the flora and fauna. There is no such thing as a parasite or a fungus that you can get from the dead.
It just goes to show how fascinated people are by those subjects. I'm doing my MA on the relationship between the sexualized gaze and anatomical displays. When I blog about sex and death and people go, "Really?" I think, look, you're all interested in sex and death, just look at this one urban legend that's nearly outlived me. Clearly, people are far more interested in sex and death than they'd like to let on.
What is it about that intersection that people keep on coming back to?
They've had similar periods in time where they've been sort of considered taboos. But the simple fact is sex is what begins our lives and death is what ends it. They're two sides of the same coin. They've always been connected to each other psychoanalytically because everything you do, according to Freud, you do with either the death drive, the morbido, or a life drive, which is libido.
Are there any new modern trends you've noticed, when it comes to what people want immediately before and after they die?
There are definitely newer trends towards much more environmentally friendly funerals. A lot of people are moving away from the traditional funeral, and opting for a green burial. That means that they wouldn't be embalmed. Embalming was never as big over in the United Kingdom as it is in the U.S. anyway, but it's still definitely dwindling. Natural burials where people are placed into wicker, cardboard coffins, or linen and buried into an actual burial ground. There's definitely an increase in people who want that, while we never really would hear of that request a few years ago.
And then there's death doulas and end of life doulas. They're just like midwives, but for death. I met one the other night and he actually called himself a "soul midwife." Death doulas are usually brought in when the person is in hospice. It can also be as soon as a person discovers that they're terminally ill. In the same way that a midwife is there for the mother as she's becoming dilated and then she delivers the baby, the doula helps the person through the process of death. It's a similar process, I suppose, just the other way around.