Why Did William Shatner Block Everyone at Inverse on Twitter? An Investigation
His deflector shields are strong.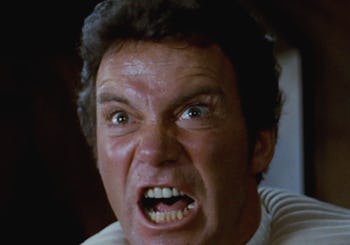 Flickr / Gage Skidmore
Journalists getting blocked on Twitter is nothing new in Trump's America, but Monday William Shatner took the restrictive practice to new heights when he blocked nearly every person in Inverse's newsroom on the social media platform.
The blow to press freedom was first discovered Monday by staff writer Eric Francisco, who tweeted that he had been blocked. News quickly spread on Slack, where staff discovered that at least 12 Inverse employees, editorial and otherwise, and Inverse's podcast I Need My Space, were blocked by Shatner on the social media platform.
Shatner on Inverse
Shatner, who played Captain Kirk on the original season of Star Trek, has been a longtime subject on Inverse, yielding 61 pages of search results from the site's archives. Inverse's coverage of the actor has run the gamut, from straight news, to admiration, to critique.
In March, Shatner gave an interview to Inverse Entertainment Editor Ryan Britt (who has also been blocked) to promote his children's movie. In the interview, Shatner opened with a neg, saying "Well I'm very busy but I thought I'd make a difference in your case," and "My day was going pretty good up until now."
Let the Blocks Rain Down
Shatner appears to have begun his blocking spree in the wake of an article published on Inverse on June 28 (disclosure: that article was written by me), pointing out Shatner's seemingly frequent use of Twitter and Reddit and possibly 4chan, along with his penchant for using language like "snowflake" and "SJW," which are calling cards of the conservative web.
After the article was published, Shatner blocked the author of this article, calling him a "yellow journalist."
Shatner went on to say "New media journalism is about creating illusions of truth by creating fiction. The majority of new media outlets do this."
Shatner's Blocking Policy
Despite frequently waging war against "SJWs" online, Shatner claims that he doesn't want any form of politics on his page. He's been known to block people in his mentions that he deems to be too political.
In November, Shatner blocked and unblocked the actor portraying Star Trek's most recent captain, Jason Isaacs, who is openly political on his Twitter.
The actor says he thinks that he was blocked because he was misquoted as saying the new Star Trek would throw away the legacy of Captain Kirk, but doesn't actually know because when he met Shatner in real life, he had no recollection of the drama. "I met him and he seemed to have no knowledge of it at all. So I'm not sure he does his own Twitter feed," Isaacs told to the Telegraph.
Despite Isaacs' skepticism, other actors have said that Shatner is notoriously prickly. George Takei, who has a notorious feud with Shatner, has said, "we've all had difficulties with Bill."
Whatever the reason Inverse was blocked, the site will continue to bring readers hard-hitting coverage about William Shatner's Twitter. You can thank the Incognito Tab.
Inverse reached out to Shatner's publicist for comment and will update when we hear back. Until then, this investigation remains open.
Has William Shatner blocked you on Twitter? Tell us your story: blockedbyshatner@inverse.com.