Fourth of July 2018: Interactive Google Doodle Shows Top Food in Each State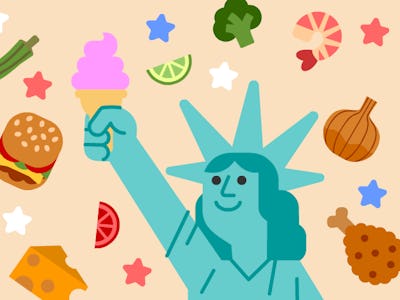 Google
Google is getting into the independence day spirit, with an interactive homepage doodle that celebrates popular food in each U.S. state. The "Foodle" map, as it's affectionately known by the team, shows high-rated recipes for each state or territory from the past 12 months, using Google Trends data as its starting point.
The doodle offers a fun, data-driven twist on the week's festivities. People across the country are gearing up to celebrate 242 years since the 13 colonies declared independence from the British Empire. The day will see friends and family gather for summertime barbecues, sharing recipes and dishes that show the finest the nation has to offer.
This clickable doodle allows users to zoom in and see why Maryland folk love crab dip so much, why tortilla soup has Texas hot under the collar, and why Wyomingers are going bananas for banana bread recipes. While artists Kevin Laughlin and Shanti Rittgers produced the design of the doodle, the interactive nature meant an all-hands-on-deck approach led by doodle team lead Jessica Yu.
View a screenshot of the doodle below:
It's not the first time Google has changed its homepage doodle to commemorate a major holiday. Previous doodles have paid tribute to Martin Luther King Day, Black History Month and Mother's Day.
For those that can't access the doodle, here are the foods Google has chosen to represent each state and territory:
Alabama: Broccoli Salad
Alaska: Halibut
American Samoa: Pizza Dough
Arizona: Spanish Rice
Arkansas: Potato Soup
California: Quinoa
Colorado: Spaghetti Squash
Connecticut: Quiche
Delaware: Baked Salmon
Florida: Ceviche
Guam: Fried Chicken
Georgia: Squash Casserole
Hawaii: Shoyu Chicken
Idaho: Crepe
Illinois: Italian Beef
Indiana: Buckeye
Iowa: Hamburgers
Kansas: Meatballs
Kentucky: Vegetable Soup
Louisiana: Gumbo
Maine: Apple Pie
Maryland: Crab Dip
Massachusetts: Haddock
Michigan: Goulash
Minnesota: Sloppy Joe
Mississippi: Taco Soup
Missouri: Hamburgers
Montana: Chili
Nebraska: Taco Seasoning
Nevada: Chicken Adobo
New Hampshire: Apple Crisp
New Jersey: Flounder
New Mexico: Pozole
New York: Chicken Cutlets
North Carolina: Snow Cream
North Dakota: Hamburgers
Northern Mariana Islands: Orange Chicken
Ohio: Sausage Gravy
Oklahoma: Hamburger Meat
Oregon: Teriyaki Sauce
Pennsylvania: Asparagus
Puerto Rico: Tembleque
Rhode Island: Chicken Parm
South Carolina: Chicken Bog
South Dakota: Hamburgers
Tennessee: Hashbrown Casserole
Texas: Tortilla Soup
Utah: Zucchini Bread
Vermont: Waffles
Virginia: Salmon Cake
U.S. Virgin Islands: Johnny Cake
Washington: Pork Chop
Washington, D.C.: Crab Cake
West Virginia: Meatloaf
Wisconsin: Meatloaf
Wyoming: Banana Bread