Carter G. Woodson: The Incredible Story Behind the Google Doodle
It was created in collaboration with the Black Googlers Network.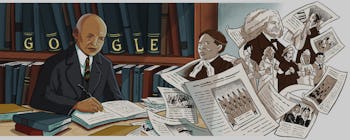 Google
Google marked the start of Black History month on Thursday with a commemorative sketch on its homepage dedicated to the life of Carter G. Woodson. Devoting his life to African-American history, Woodson first developed the idea of dedicating February to black history as a way of encouraging its study in schools and academia. The doodle was produced in collaboration with the Black Googlers Network and Shannon Wright, a Virginia-based illustrator.
"When I voiced my ambition to go to Harvard, I was told by teachers, guidance counselors, and even some family members that 'people like me' didn't go to schools like that," says Sherice Torres, member of the Network and director of brand marketing at Google. As a child, Torres went to an underperforming school in Richmond, California. "Fortunately, my parents believed in me and supported ambitions beyond their vision and experience. That support, along with the inspiration of great American leaders like Woodson, gave me the confidence to follow my dreams and achieve more than I've ever imagined."
Woodson was born in 1875 in New Canton, Virginia. His parents were former slaves that never had the chance to learn to read or write. Starting out life as a miner to support the family, he eventually went to high school at age 20 and graduated just two years later. He went on to become the second African-American to receive a doctorate from Harvard University in 1912, and throughout his life wrote more than 20 books about African-American history. He unexpectedly passed away in 1950, leaving a legacy as the "father of black history."
Woodson's life work is still felt today through initiatives like the Black Googlers Network, one of the over 20 employee resource groups aimed at supporting company diversity. Torres and other members of the network assist with events like Black History month and mentoring, either through a voluntary basis or in the "20 percent time" where people are encouraged to work on other beneficial projects during their working day. It's not the first doodle the organization has collaborated on, with one released last month to celebrate Martin Luther King Jr. Day.
"This Black History Month, I encourage others to learn more about the incredible legacy, contribution, and journey of black people in the United States," Torres says. "I also hope they will be inspired by the example of Carter G. Woodson and challenge themselves to push beyond any perceived limitations to achieve a goal they may think is just out of reach."
Google also released some early drafts of the doodle:
It's not the first time Google has celebrated an author's work. Previous doodles have been dedicated to the lives of Chinua Achebe and Virginia Woolf.