Mother's Day Google Doodle from 18 Years Ago Shows How Far Tribute Has Come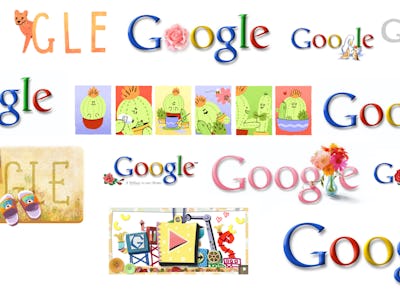 Google
This year's Mother's Day Google Doodle is a far cry from the first doodle in 2000, which shows how the premise of honoring a certain day has evolved with the search engine company for the last 18 years.
Sunday's Google Doodle features a child's drawing, likely with finger paint, of what could be two dinosaurs. It uses the Google logo colors, but doesn't even have the word "Google."
In comparison, the original Mother's Day doodle was the traditional Google logo with an added flower. Below the logo is a tagline saying, "A Tribute to our Moms."
In total, Google honored US moms on Mother's Day 18 times. In recent years, the search engine company created multiple doodles that varied depending on where you were located. In 2014, most of the world saw the Mother's Day doodle of a mom on a bike with her kids.
Countries such as Argentina and Costa Rica saw a different Google Doodle of a mother telling a story to her children.
The doodles were also changed slightly to better represent the respective countries, hence the reason this version of the doodle for Poland looks slightly different.
This year's Mother's Day Google Doodle can be seen in more than a dozen countries, including the US. It's already been used in Armenia, Hungary, Lithuania, Portugal, Spain, Mexico, El Salvador, and Guatemala, which already had their Mother's Day in April or earlier in May.
Here's a selection of Mother's Day Google Doodles from the past 18 years to see how they've evolved over time.
Mother's Day became a national holiday in 1914 when President Woodrow Wilson signed the bill recognizing the special day. He did so because of the work of Anna Jarvis, a West Virginia woman who, at the time, wanted a day to celebrate her mother, who died in 1905, and mothers everywhere. What started as a local celebration at a church became a commercial holiday that Jarvis later protested against.
Along with the Mother's Day Google Doodle, there is a small link below the search bar. This link leads to a Google blog post about the children of incarcerated mothers. Called the Love Letters project, a video produced by Now This shows mothers in jail sending their love to their children and children saying how they miss their moms.
Meanwhile, Father's Day is on June 17 in the United States, and just like Mother's Day, the first Google Doodle to celebrate fathers started in 2000 with themes focusing on hats, ties, and fathers relaxing.