Is Tesla's Model 3 Production Rate Sustainable? Experts Have Their Doubts
by James Dennin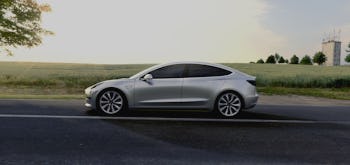 Tesla
Tesla more than doubled the weekly production rate for its much-hyped Model 3 during the quarter, a key milestone toward making good on Elon Musk's promise to manufacture a mass market electric car. It's a positive conclusion to what has been a sometimes difficult ramp-up for the Model 3, which Musk described as "production hell."
Indeed, the company produced 28,578 Model 3s during the quarter that ended over the weekend, according to its latest vehicle production report. The company more than doubled its weekly production rate over the course of the quarter, and now produces more Model 3s than it does Model S or Model X vehicles for the first time.
Tesla's ramp-up of the Model 3 has been dramatic, with reports of fires on the production line and even accusations of employee sabotage. Through it all, Musk seemed confident about hitting the goal he set at last month's shareholder meeting of producing 5,000 Tesla Model 3s per week.
Next up, Tesla will have to prove the pace is sustainable, which required erecting a new tent production line at the company's Fremont headquarters. Some prominent Tesla observers including the analysts at Goldman Sachs and Barclay's have both issued notes saying they expect the production rate to slow some over the summer.
Tesla does not think that will be a problem, and claims in its vehicle report that its regular GA3 assembly line for the Tesla Model 3 will soon produce 5,000 cars per week on its own, and that the company as a whole is on track to produce 6,000 cars per week by the end of next month.
Perhaps more importantly, Tesla says that it is still on track to hit positive net income and cash flow this year.
Last month, Musk conveyed to employees in a memo that the recent layoffs that achieving sustainable profitability is key to fulfilling its mission of accelerating "the world's transition to sustainable, clean energy."