'Luke Cage' Star Has Ideas for a 'Daughters of the Dragon' Spin-Off
With Season 2 bringing the Marvel duo to live-action, Simone Missick shares her thoughts on a full-fledged series.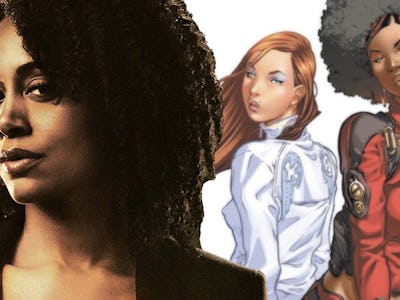 Marvel Entertainment
The series may be titled Luke Cage, but Simone Missick regularly steals the spotlight as the hard-boiled Harlem police detective Misty Knight. And in one episode of Season 2, now streaming on Netflix, Misty Knight teams up with a new friend, kung fu master Colleen Wing (Jessica Henwick) from Iron Fist, bringing to life the cool-as-ice duo known as the Daughters of the Dragon.
In an interview with Inverse, Missick reveals she has serious thoughts about a live-action Daughters of the Dragon show set in the Marvel Cinematic Universe. And in the climate of #MeToo, the Michigan-born Marvel actress says a Daughters series would be especially relevant, socially and politically.
When asked if Missick would be interested in a Daughters of the Dragon series, she replied, "Absolutely."
"Jessica [Henwick] and I are very similar in the way we look at storytelling for women, for women of color, making sure that the narrative is authentic," Missick says. "I think the two of us would make sure that we tell stories that are culturally and politically relevant in this time period right now."
So what would Missick's culturally relevant Daughters of the Dragon series look like? "Not stereotypical or derisive against Asian women, African-American women, women in general," she explains.
In comics, Misty Knight and Colleen Wing first teamed up as the Daughters of the Dragon in issue #64 of Marvel Team-Up, a Spider-Man-centric series that often featured Spidey briefly join forces with characters like the Human Torch, Thor, Daredevil, She-Hulk, Black Widow, Shang-Chi.
In spite of the Daughters' top billing of Marvel Team-Up #64, they weren't really the stars of the comic. And the two continued to play second fiddle in other male-led series, but the two finally took the spotlight in a 2005 limited series Daughters of the Dragon, written by Jimmy Palmiotti and Justin Gray.
"We're dealing with a lot of issues that pertain to women and equality, gender equality, sexual harassment," Missick adds.
"To put these women on screen against systems that subject women would be exciting, then adding the superhero element of it all, two women fighting side-by-side, not jockeying for position or for the affection of a man, but trying to protect and serve their community, I think would be so exciting to play."
For now, there's no Daughters of the Dragon series publicly known to be in development. But until there is one, fans can at least watch that one very badass fight scene from Luke Cage Season 2 where Misty and Colleen beat up a whole bar wearing their signature colors.
Marvel's Luke Cage Season 2 is streaming now on Netflix.