These Are the iOS 12 Features That You're Going to Love the Most 
Things to actually look forward to.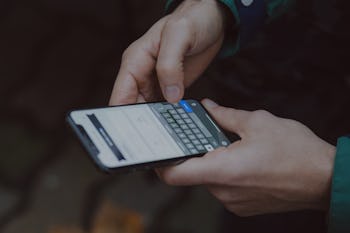 Unsplash / freestocks.org
Apple's announced iOS 12 update will likely be hitting iPhones and iPads sometime in the fall. This year's Worldwide Developers Conference teased a plethora of new feature and tools the software update will roll out with. Some were gimmicky, some are laying the ground for big future bets, and some actually look really helpful.
Comparing your customized Animoji to your friend's, for example, might be fun for a day or two but after a while, a digital rendition of your face will probably get stale. What's really going to stick are the features that are aiming to make users experience cleaner, faster, and smoother.
Here are five iOS 12 features and updates that we think are the most likely to actually improve your experience.
1. iOS 12: A Weaker Chain to Apple Maps
It's no secret that Apple Maps can be less than reliable at times. Apple fans on Reddit will be quick to admit their preference for third parties like Waze and HBO's Silicon Valley has even taken shots at the navigation app. After all of this roasting, it seems like Apple has gotten the message and will allow users to use third-party map applications with CarPlay.
If your car supports CarPlay your days of being subjected to an Apple Maps navigation system are over. Users will soon be able to run even Google Maps in order to get where they need to go upon iOS 12's release.
2. iOS 12: Apple Is Embracing the DIY Lifestyle
Using augmented reality to measure things is nothing new. A quick search in the App Store reveals countless virtual measuring tape applications and room scanners that help you calibrate your bedroom's feng shui. But now Apple is releasing its own AR toolkit, in what seems like an effort to box out the competition.
A built-in Measure app will come bundled with Apple's ARKit 2.0. This will let you quickly measure your couch, keyboard, and pretty much anything you'd like. There've been some reports of bugs, but the bigger question may be what other features Apple has in the pipeline aimed at DIYers.
3. iOS 12: Never Be Flooded By Texts Again with Stacked Notifications
We all have that one friend that finds it necessary to text one word at a time. If you have more than one of those friends then you'll be overjoyed to hear that Apple is going to start stacking your texts instead of listing them all.
Got ten texts by the same person? They'll be neatly organized into one virtual pile right on your home screen. This will be the same for emails, news notifications, or unwanted alerts that your 8th grade bestie is getting back into Instagram. The days of waking up and being instantly overwhelmed by the internet may finally be over.
4. iOS 12: Your Phone Will Sort Your Photos
Perfectly curating your Instagram takes a lot of pictures and a lot of time. After you've successfully taken more photos of your vacation than you would ever care to post, it's time to pile through them all to pick out the ones that you don't look like a mess. Now, iOS 12 will do the sorting for you and leave you to enjoy the best of your photographic skills.
The newly improved Photos app will present you with your best pictures, organize them by the people in them and the places you went to. It will also let you search for these categories so you don't have to spend five minutes scrolling up to find a specific selfie.
5. iOS 12: Battery Health Transparency
Apple's iOS 11.3 update already provided a way to check in on the state of your battery. This feature was primarily seen as a response to the battery throttling scandal that Apple is still dealing with, and iOS 12 is taking it a step further.
These new battery health tools will include day-by-day and hour-by-hour charts that breakdown which apps are soaking up the most of your battery life. This will reveal if one of your apps is takes up a lot of juice by simply running in the background. This way if you're ever wondering what's draining your phone before noon, all of the answers will lie in the Battery menu under the Settings app.