The House Just Passed a Bill That Could Make Kratom Illegal
This bill could greatly expand the war on drugs.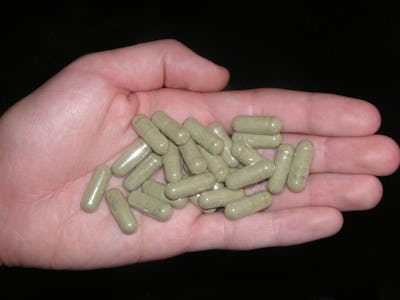 Wikimedia / Psychonaught
Kratom, an herbal drug used by chronic pain patients and people with opioid use disorder, has been on the Drug Enforcement Administration's chopping block for years, but it could become illegal a lot sooner than expected. On Friday, 239 members of the US House of Representatives voted to pass H.R.2851, the Stop the Importation and Trafficking of Synthetic Analogues Act — SITSA Act for short — which is intended to help fight the growing opioid epidemic in the US. Unfortunately, it could also have the side effect of giving the Department of Justice broad authority to make kratom illegal.
The SITSA Act, which has not yet been approved by the Senate, would expand the Controlled Substances Act to include one additional category of drugs: Schedule A. Currently, the CSA includes five categories — or "Schedules" — of drugs, numbered I through V. Schedule I contains illegal drugs like heroin and LSD, and Schedules II through V contain drugs that could be abused but are available with prescriptions (for instance, oxycodone is Schedule II and Ambien is Schedule IV).
See also: Kratom Could Be Illegal Before It Gets a Chance to Solve the Opioid Crisis
Under the SITSA Act, the Justice Department could quickly place any analogues of existing drugs into Schedule A. An analogue is any drug that has a similar chemical structure and an "actual or predicted" effect that's similar to a drug that's already scheduled. That's what worries advocates of kratom, an herbal drug that is not currently illegal but has opioid properties.
On its face, the bill is focused squarely on synthetic opioids that are fueling the opioid crisis. The only specific drugs it lists are 13 chemical analogues of fentanyl, the powerful opioid that the US Centers for Disease Control and Prevention blames for a large portion of the recent increases in opioid overdose deaths. If passed, the SITSA Act will give the Justice Department broad authority to quickly assign these fentanyl varieties a similar legal status as fentanyl, making it possible to swiftly prosecute anyone distributing substances that aren't actually illegal.
But as concerned critics have pointed out, the SITSA Act also opens the door for an even broader interpretation of the law, in which the Justice Department could quickly add other chemicals to Schedule A without much oversight. Compounds can remain for up to five years in that category until there's sufficient research to back up a permanent scheduling decision.
This is what kratom advocates are specifically worried about. In February, the US Food and Drug Administration warned that kratom is chemically similar to opioids and could therefore fuel the opioid crisis. As Inverse has reported, experts question the FDA's assessment of the danger posed by kratom. Nevertheless, if the SITSA Act passes, that FDA report could be all the evidence the DEA needs to place kratom into Schedule A. At that point, the Justice Department would have five years to place it into a more permanent category.
In an open letter to Congress published on June 14, Human Rights Watch, the ACLU, the NAACP, and over a dozen other organizations expressed opposition to the bill, arguing that it would disproportionately punish drug users rather than manufacturers or distributors. "The legislation attempts to address the very real problem of synthetic opioid overdoses in the United States, but we believe that its methods are misguided," the letter reads. "Instead of punishing people who use drugs and low-level dealers, legislation should focus on expanding treatment opportunities and targeting the international drug trade."
Additionally, the SITSA Act includes language outlining criminal penalties (fines and prison time) rather than treatment or rehabilitation. So, while the prime motivation behind the SITSA Act may be public health, it could do more harm than good by further criminalizing drug addiction instead of helping expand treatment resources for people who need them.
And as far as kratom goes, if the rules of the SITSA Act eventually make it illegal, then researchers will have a much harder time investigating whether it could actually be a safer alternative to opioids.