'Aquaman' Villain Looks Extremely Bright and Comic-Book-y. Good.
Looks ripped right out of the comics with a practical touch.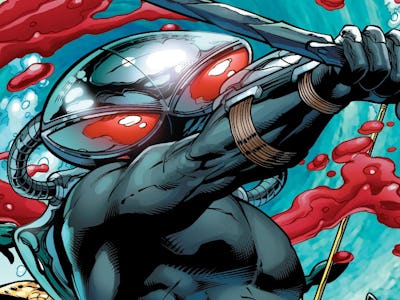 DC Comics / Paul Pelletier, Sean Parsons, Rod Reis
One new villain coming to the DC cinematic universe via Aquaman looks super comics-accurate in a way that'll probably liven up an otherwise dark and grim world, even though his suit is mostly black.
On Thursday, Entertainment Weekly offered the exclusive debut of the villainous Black Manta, aka David Hyde, as he'll appear in Aquaman. The costume perfectly mirrors what we've seen in DC Comics' New 52 and even in other properties like Young Justice and Injustice 2.
The debut image shows actor Yahya Abdul-Mateen II as Hyde in some kind of high-tech lab. In front of him on the table is unmistakably the Black Manta helmet. Normally, Black Manta wears a black wetsuit with a bug-eyed helmet capable of shooting energy rays. Judging by the bright color of the eyes on this helmet, it'll probably be capable of doing just that in Aquaman.
The air tubes that extend from the back of the helmet are pretty much identical to the ones you might see in something like the video game Injustice 2:
Judging strictly from the image, this version of the Black Manta helmet comes with a touch of realism. In other iterations, the helmet looks almost seamless in its design, but in Aquaman it looks closer to a high-tech diver's helmet with sections of plating bolted together. And rather than being black, it looks closer to a plain grey metal.
For all we know, this is an early prototype for the helmet that David Hyde paints later, and we don't actually see the rest of the suit. But his well-lit lab is a welcome variation from Bruce Wayne's angry-looking Bat Caves or Barry Allen's dirty hipster lair.
Even if this version of Black Manta looks more like the original Alpha 5 from Power Rangers than the new Alpha did in the movie, then that's a good indication that Aquaman could help usher in a brighter future for the DC cinematic universe.
Aquaman comes out on December 21.