Black Manta Will Be the Villain in DC's 'Aquaman' Movie
What did you think Aquaman would fight? Sea pollution?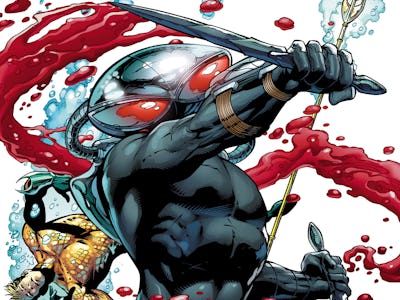 DC Comics
With an aquatic superhero like Aquaman, one would expect his arch-nemesis to be ocean pollution or something. But Aquaman, like any other superhero, has many formidable enemies – and one such foil is Black Manta.
It turns out, Black Mantha will be the primary antagonist in Aquaman, which is currently in production. The film will be helmed by The Conjuring and Furious 7 director James Wan and Game of Thrones alum Jason Mamoa (who might also star in a reboot of The Crow) reprising his Arthur Curry role from Batman v Superman: Dawn of Justice and next year's Justice League.
There have been quite a few versions of Black Manta. Though introduced in 1967, he didn't have a proper origin until 1993, when he was shown as a boy from Baltimore kidnapped at Chesapeake Bay. Horribly abused by his captors, he saw Aquaman but was unable to signal him for help. The boy violently escapes from his captors and swears to take the ocean from Aquaman, deeply resenting him the hero for not saving him.
In the New 52 reboot from 2011, Black Manta seeks revenge for the death of his father by Aquaman, caught in a never-ending cycle of blood begetting blood (Black Manta's dad in turn had killed Aquaman's father). He eventually is imprisoned in Belle Reve and refuses to join Amanda Waller's Suicide Squad several times until an attack on the prison compels him to join.
It's too late for him to get in that movie, though. Black Manta is once again the villain of Aquaman: Rebirth which is currently ongoing.
Warner Bros. will release Aquaman on July 27, 2018.