With 'The Crow' Reboot, Jason Momoa May Play Role of Brandon Lee
Momoa is going to be a sight to see if he assumes Lee's old garish get-up.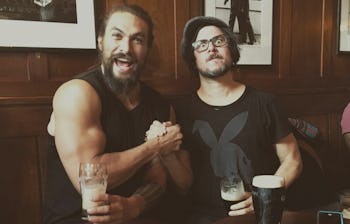 It's how dreams are so often realized: bros in a pub having a pint, mate, just spitballing cool concepts and notions.
That is, if we trust Aquaman star (and Khal Drago dude) Jason Momoa's Instagram, which seems to indicate that the rumors are true: Momoa will be starring in director Corin Hardy's reboot of the notorious and goth-ly iconic 1994 film The Crow.
Mashable also reports that sources close to the production have confirmed it is happening, and may even hit theaters before Aquaman
It's a promising project, since Hardy's film The Hallow was one of the most promising entries to the horror genre from last year. Hardy definitely has a command of mood.
The only eerie thing about rebooting The Crow — originally directed by Dark City, Knowing and Gods of Egypt (yikes) director Alex Proyas — is that, you know, the star, Brandon Lee, son of Bruce Lee, died making it, from a shot from a prop gun that was not actually a prop gun.
So taking on the subject matter again — a white-made-up undead rock star warrior seeking out those who did him wrong in his lifetime — seems a bold and somewhat-unsettling move. It recalls the old community-theater superstition about the name of the play "Macbeth" being cursed, and the plot of the movie The Hollows: Should this movie even be made?
The only takeaway here: If it actually comes to fruition — it's been in talks since at least 2008 — it might actually be good. But at this point — nearly a decade after the first hints of its existence — anyone who's traipsing around talking about a new Crow movie is, de facto, the boy who cried wolf.
Hardy aside, though, the imposing and ever-stacked Momoa is going to be a sight to see if he assumes Lee's old garish get-up. This might be one new franchise reboot that doesn't severely disappoint, or come off as completely by-the-numbers. But we'll believe it's real when we see it.
For now, enjoy those sick brews, my dudes!