Congress Pledged $500M for New Plan to Fight the Opioid Crisis
The plan includes both treatment and prevention.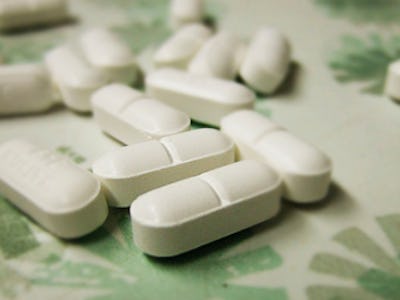 Flickr/Amayzun
The opioid epidemic is claiming lives at an ever-increasing pace in the United States, and the National Institutes of Health (NIH) is stepping in with a new plan. For this initiative, called "Helping to End Addiction Over the Long-Term," Congress has pledged $500 million to help the NIH pursue a range of solutions to fight the opioid crisis on all fronts, and on Tuesday the NIH announced how it plans to spend all this money.
Doctors at the NIH revealed the objectives contained in the HEAL initiative in an editorial published in the Journal of the American Medical Association, all of which fall under two general categories: improving addiction treatment and improving pain management. In the editorial, Francis Collins, M.D., Ph.D., director of the NIH, as well as Walter Koroshetz, M.D., director of the National Institute of Neurological Disorders and Stroke, and Nora Volkow, M.D., director of the National Institute on Drug Abuse, highlighted the NIH's holistic approach to the opioid crisis. They acknowledge that even though there are multiple treatments for opioid use disorder — methadone and buprenorphine (Suboxone), for instance — these drugs' relatively low long-term success rates merit re-evaluation of the medical community's approach to addiction treatment.
As such, HEAL will focus, in part, on expanding access to treatment and improving the formulation of existing therapies. This includes developing overdose reversal drugs that are more effective against long-acting opioids like fentanyl. Additionally, the editorial's authors recognize that current therapies for people living with chronic pain are contributing to the opioid crisis as these patients often become dependent on legally prescribed drugs and then seek illicit drugs like heroin and fentanyl to get relief.
But at the same time, simply cracking down on these prescriptions can severely limit these patients' quality of life. "NIH recognizes that lasting solutions to the opioid crisis will require an expanded set of options for the treatment of pain," an NIH spokesperson tells Inverse. In other words, long-term solutions must involve developing effective, less addictive pain medications. As part of this effort, scientists working under NIH grants will try to identify new biological targets for pain medications as part of the effort to transition away from opioid drugs.
And while a future with safer and more effective alternatives to opioid drugs is one that we can hope to look forward to, we still must deal with reality in the meantime, and part of that reality is that we simply don't have these alternatives yet. Therefore, expanding access to effective treatment is crucial to stemming the rising tide of overdose deaths.
NIH officials say that this dual focus is central to HEAL: treating existing patients with opioid use disorder, while also setting up future patients to not have to deal with the trials of addiction. The coming months and years will show how successful these efforts are.