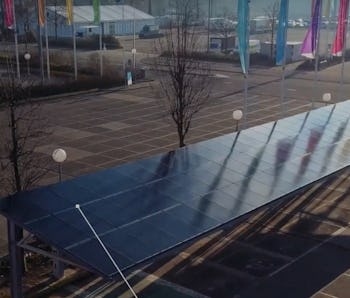 Innovation
This Tesla Powerpack Station Charges 20 EVs With Solar, and It Looks Great
LomboXNet
Tesla Powerpacks are helping non-Tesla electric cars run on sunlight. The LomboXNet installation, unveiled last week in Utrecht, the Netherlands, offers 20 charging points for electric cars with 200 solar panels providing clean energy. To make sure the power comes through without sun, the system uses a 400 kilowatt (or 800 kilowatt-hour) Powerpack system.
The new system, as noted by Electrek in a Tuesday story, allows electric car owners to charge a variety of vehicles through the project. The first ones on display were a fleet of Renault Zoes. It's a clear expression of Tesla CEO Elon Musk's goal to transition the world into renewable energy. At the unveiling of the Tesla Semi electric truck in November 2017, Musk announced the development of solar-powered "megachargers" that can help the truck "run on sunlight." Tesla is not the only player in this field, with LomboXNet working on the Utrecht project as part of a 10-year "Smart Solar Charging" team.
"Who would have thought 10 years ago that sun, electricity and electric cars could be cleverly connected on a large scale?" said mayor Jan van Zanen in a statement. "The Utrecht LomboXNet has recognized this opportunity and put it into practice, in collaboration with international companies such as Renault and General Electric. The large battery at the Jaarbeurs marks a milestone that fits the Utrecht ambitions."
Tesla's battery efforts are helping solar panel owners power their appliances even when the sun isn't shining. Solar Roof owner Amanda Tobler was one of the first in California to use a Powerwall to keep her home running even when Tesla's own tiles weren't producing electricity, while Israel Melendez a user in Puerto Rico, shared his impressive stats with Musk over Twitter.
It's not the only green energy project underway in Utrecht. By the year 2030, the city aims to make all cars emission-free and remove natural gas from all homes in favor of greener alternatives. Tesla, on the other hand, plans to launch an array of electric vehicles over the coming years and boost production past the rates of around 2,000 cars per week as currently seen with the Model 3.
The future is looking green.