'Fortnite': 4 Most Anticipated Changes Arriving in Weekly Update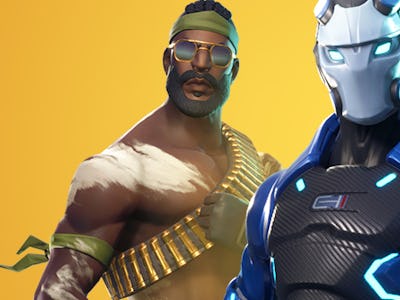 Epic Games
Tuesday morning is when the next update of Fortnite will go live, and this week's update could have a few extras for players to "jump" into.
Epic Games will add the new Fortnite content update Tuesday. As the case with these updates, there is a mix of new modes, new items, and other content possible with this new update.
Here are the most anticipated changes to the game.
The Bouncer
Right now, Fortnite players who want to get some height during a match have only the Launch Pad available. In the next update, the Bouncer will return to the game. Unlike the Launch Pad, the Bouncer can be placed on walls and floors allowing to be possibly used as a trap against opponents instead of just a way to get vertical.
Stink Grenade
Data miner @FNBRLeaks tweeted some new changes to the Fortnite files. One item found is a new Stink Grenade. The description for the item says, "Hurls a grenade that unleashes a cloud of poison." This item, however, may be only for Fortnite: Save the World rather than the battle royale mode.
Ceiling Drop Trap
Another item found by @FNBRLeaks. Is the Ceiling Drop Trap. Unlike the Stink Grenade, this trap is not new. It's currently in the Fortnite: Save the World mode, but it appears that it will make the jump to Fortnite: Battle Royale.
Playground Mode
In a May blog post, Epic announced a new Playground limited time mode that has yet to be added to the game. This new mode would act as a practice mode where players can respawn and see an increase in resources. There will also be plenty of Support Llamas in this mode. Playground LTM is ideally for new players who want to get the feel of the game, especially building, without having to worry about 99 other players trying to take them out.
Tuesday's new update will go live at 8 a.m. Eastern. Epic tweeted there will be no downtime.
What will not show up on Tuesday is the Weekly Challenges. New challenges will now go live Thursday morning. That delay did not stop data miners who leaked this week's challenges early.