'Fortnite' v4.3 Update Launches as Weekly Challenges Receive Major Change
The update adds in a number of popular features.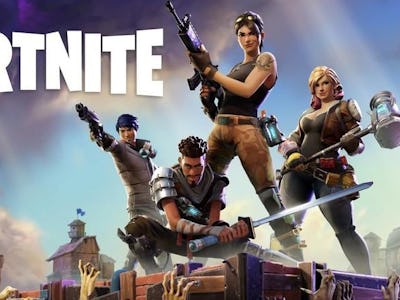 Google
Epic Games took down the Fortnite servers on Wednesday as part of an altered plan for its approach to updates. The version 4.3 patch brings a slew of new changes, including the return of the refund system, and it's part of a new management strategy to better handle the rollout of Weekly Challenges.
The update, which arrives one day later than the regularly-scheduled Tuesday rollout, is part of Epic Games' efforts to smooth out the Challenges rollout. Challenges will now go live on Thursdays, starting with the Week 5 challenges for Season 4 that will go live on May 31.
Why Are Weekly Challenges Delayed
An Epic Games developer explained on Reddit Tuesday that "our goal is to reduce the risk of new weekly challenges being put in a bad state if the weekly rollover is delayed."
It's unclear what that means for certain, but it's likely a reference to an issue that emerged two weeks ago. The Week 3 Challenge "Watch a Replay" should have been an incredibly straightforward win, but players found a bug that meant Epic Games had to patch to ensure the replay feature worked correctly. The fix went live with the v4.2 update.
The challenges for Week 5 leaked on May 26. There are seven challenges with a variety of tasks, perhaps the most unique being the "Search Gravity Stones" task. "Follow the treasure map found in Greasy Grove" may also prove a hard task for some players.
Is the Refund System Back?
One of the biggest changes in version 4.3 is the return of the Self-Service Cosmetic Returns feature. This went live with update 3.6 in April, but Epic Games quickly disabled the feature after discovering some show-stopping bugs in its implementation. The feature allowed players to submit a refund request to get their V-Bucks back for their purchase.
Epic Games explained the issue in a Trello card:
Some underlying issues were discovered with this feature when it was launched. This required us to remove it temporarily while we investigate and fix those issues, we'll also be making some usability improvements to the system. Once this has been accomplished this feature will be returning.
What's New in v4.3
The update makes a number of big changes:
Shopping Carts have been added to Battle Royale to race across the map.
User interface elements allow Battle Royale players to track their Challenges progress in-match.
VoIP-based voice chat has been added for PC players to work as a team in the Save the World mode.
The second part of the Blockbuster event, A Hero is Born, has been added to the Save the World mode. The event sees players "reunite with Ray and join the effort to save Spitfire":
Structures now build faster after the first building piece is placed down.
A toggle to turn on and off "Edit Mode Aim Assist" has been added, a feature that's always been on for controller users.
Unique loading screens for Save the World and Battle Royale.
New Mushroom foraged item for Battle Royale
Two limited time modes for Save the World. "Blitz! V2" adds faster storms and promises more intense finishes, while "Teams of 20 V2" sees five teams of 20 face off to the very end.
Bug fixes and performance improvements.