Wear Orange 2018: How to Participate in National Gun Violence Awareness Day
Events are happening all weekend.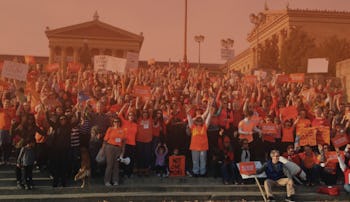 Wear Orange
As part of the movement to end gun violence, Friday marks National Gun Violence Awareness Day, while this weekend is officially "Wear Orange Weekend." The nationwide campaign was started in 2015 by Everytown for Gun Safety, a non-profit organization that's advocating for better gun control.
Over the weekend, events are happening all over the U.S. to campaign against gun violence. Marches, rallies, picnics, and BBQs are planned in neighborhoods across the country. A lot of events are youth-led, and attendants are asked to wear orange and bring signs that support a pro-gun control message.
How to Participate
Everytown's Wear Orange website has a comprehensive list of all the events that are planned over the weekend. The campaign also asks that supporters committed to ending gun violence use the hashtag #wearorange when posting about the campaign online. There are also "Wear Orange 2018" frames available for profile pictures on Twitter and Facebook here.
Why Orange?
In 2013, Hadiya Pendleton was shot and killed in a Chicago park, where she had been hanging out with her friends after taking their final exams. The alleged assailant later claimed that he had mistaken Pendleton's group for members of a rival gang. After her death, orange was the color that Pendleton's parents and friends chose to wear in her honor.
Because of their anti-gun violence activism, the color has transformed into a national symbol of solidarity in the movement to stop gun violence. June 2 would also have been Hadiya's birthday.
This weekend's actions will likely be especially poignant as they ride a renewed wave of momentum to create better gun legislation following the Parkland school shooting in February and, more recently, the shooting that killed ten at a Santa Fe high school in May.
The youth-led coalition March For Our Lives, which includes students from Parkland, has been working hard to keep gun control in the public consciousness since February. The group has organized a rally in Staten Island on Saturday before a massive demonstration will see marchers cross the Brooklyn Bridge to bring awareness to gun violence.