'Spawn' Movie Will Star Jamie Foxx and Be Like 'A Quiet Place'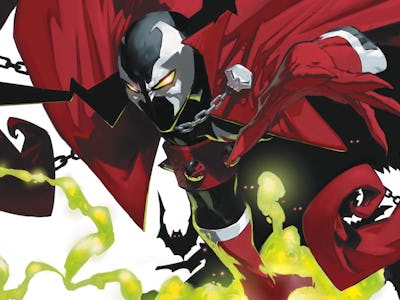 Image Comics
Todd McFarlane is giving a Spawn movie another go, and this time, McFarlane and Blumhouse are banking on a major star: Jamie Foxx. The Image Comics co-founder and producer also hopes moviegoers will think less about Marvel and more about A Quiet Place when Spawn hits theaters.
On Tuesday, Deadline reported that Oscar-winner Jamie Foxx has been tapped to play Spawn in a reboot film based on McFarlane's dark comic book superhero that helped catapult Image Comics in the early '90s. In a change from the typical blockbusters released by Marvel and Warner Bros., McFarlane told Deadline that the new Spawn will be a dark horror movie, more akin to A Quiet Place or John Carpenter's The Thing than Captain America.
"The scariest movies, from Jaws to John Carpenter's The Thing … the boogeyman doesn't talk," McFarlane told Deadline. "This is not a man in a rubber suit, it's not a hero that's going to come and save the damsel. It's none of that. At the end of the movie, I'm hoping that the audience will say either, is this a ghost that turns into a man, or is it a man that turns into a ghost?"
McFarlane said he has a trilogy in mind, but the first movie will not be an origin story. He brings up the recent horror hit A Quiet Place as something closer to what he envisions Spawn to be.
"In A Quiet Place, the first thing on screen is a card in black and white letters that says Day 89. It doesn't care about what happened in those first 88 days," McFarlane says. "That movie doesn't worry about explaining and giving all the answers. What it said in that case was, if you can hang on for a story of survival of this family, this movie will make complete sense for you."
First published as a comic book series in 1992 as part of the upstart Image Comics, the story follows Al Simmons, a CIA agent who is double-crossed by his government while his soul is doomed to hell for his sins. That's where the demon Malebolgia offers Simmons a chance to return to Earth and reunite with his wife. But Al is tricked into becoming a warrior for hell, leading Al to use his powers as "Spawn" to fight both the forces of good and evil equally.
McFarlane says Spawn will be ambiguous for both newcomers and to hardcore fans alike. "I'm not going to explain how Spawn does what he does; he is just going to do it," he revealed. "We'll eventually do some of the background if we make a trilogy, but that's not this first movie. The first movie is just saying, do you believe? And if you believe than that's good because I'm hoping to take you for a long ride with this franchise."
A live-action Spawn film was released in 1997, with actor and martial artist Michael Jai White in the title role. The film received negative reviews and was a box office bomb. A more successful animated series aired on HBO that same year, which won an Emmy for Outstanding Animation Program in 1999. The series starred actor Keith David providing the voice of Al Simmons/Spawn.
Spawn will be Foxx's second role in the superhero/comic book space, but third if you count Foxx in 2012's Django Unchained which launched a comic book spin-off. In 2014, Foxx played Electro in The Amazing Spider-Man 2, the last in the Andrew Garfield-led Spider-Man films before Sony and Marvel co-produced Spider-Man: Homecoming, with Tom Holland in the titular role.
There is no release date set for Spawn just yet.