Bitcoin and Ethereum Price Manipulation: The DOJ Investigation, Explained
The Justice Department is cracking down.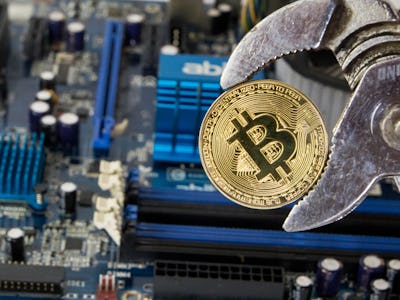 Flickr / marcoverch
The United States Department of Justice has launched a private investigation into price manipulation in the cryptocurrency market, Bloomberg reported on Thursday. The investigation will look for signs as to whether rogue traders used illegal practices to alter the price favorably.
The investigation comes as authorities' concerns are growing about the cryptocurrency market. Due to a lack of regulations, they fear exchanges aren't operating a proactive policy against bad practices across the board. The cryptocurrency market is notoriously volatile, moving from a total market cap valuation of $829 billion on Jan. 7 to $258 billion on April 7.
The investigation is looking at a range of coins, including Bitcoin and Ethereum. The price of one bitcoin dropped 4.85 percent over the 24-hour period to $7,535, while one ether dropped 6.28 percent to $585.19.
Bitcoin and Ethereum Price Manipulation: How People Cheat the Market With Spoofing and Wash Trading
The team will look into tactics like posting numerous fake orders to trick other traders into buying or selling at speed, canceling the orders after the price starts to move. This practice is outlawed by the Dodd-Frank Wall Street Reform and Consumer Protection Act, passed in 2010, which calls it a practice "commonly known to the trade as 'spoofing'." The first criminal case of its kind around spoofing took place in October 2014 against a commodities trader.
Another tactic under investigation is wash trading. This involves a trader buying and selling to themselves to give the appearance of big activity in the markets — causing other traders to act while the seller incurs no financial risk. The Commodity Exchange Act passed in 1936 outlaws this practice.
Bitcoin and Ethereum Price and Value: How the Market Has Moved
The cryptocurrency market has dropped in value since its late December surge, but some experts are predicting a turnaround. Sam Doctor, head of data science at Fundstrat, told CNBC that the price of one bitcoin could jump to $64,000 by the end of next year, while Tom Lee claims a surge of interest from institutional investors could move the price to $25,000. Not everyone is convinced, however. Expert Dominik Zynis, co-founder of Wings, recently predicted a low of $2,000 this year.
The market has gradually changed over the past few months as new rules settle into place and financial structures are implemented. In December, the Chicago Board Options Exchange started offering Bitcoin futures, enabling traders to bet on the future price of the cryptocurrency, a move that caused prices to rise. New cryptocurrency rules in South Korea, one of the largest markets in the world, were implemented in January, which experts argue has now settled to enable a resurgent market. The effects of the Justice Department's investigation remains to be seen.
The author of this story has a stake in Bitcoin and Ethereum.