Bitcoin is Surging, but Expert Predicts Shocking Low Price of $2,000
Dominik Zynis has a theory about the future cryptocurrency.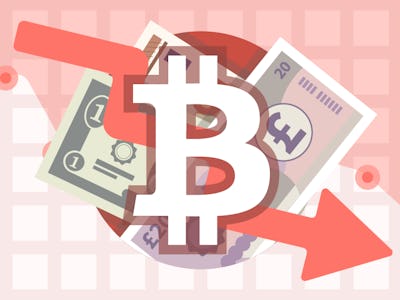 Flickr / Descryptive
Bitcoin is booming, but it may not stay that way for long. While the world's largest cryptocurrency shot past the $9,000 mark per coin on Tuesday, one expert sees the price crashing to between $2,000 and $3,000 this year before rising again.
"Typically bitcoin has declined 80 to 90 percent after reaching new highs before starting the next wave," Dominik Zynis, co-founder of Wings, a community of initial coin offering backers that covers $435 million in funding, tells Inverse. "Not that history always repeats itself but at the end of the day, Bitcoin is a commodity and one whose transaction volume is decreasing while other coins are chipping away at its dominance as the de facto trader's currency which it has enjoyed. As more people adopt crypto, Bitcoin will continue to lose its 'reserve currency' price premium. Bitcoin might be the first coin, but who is still using the first web browser today?"
Zynis doesn't see this potential drop as a permanent reduction. Instead, the coin may rise past the $30,000 mark "perhaps some time next year when the global economy tanks and governments race to print money." It's a sentiment shared by many in the business, with experts predicting a rise somewhere between $20,000 and $30,000 as investors look to the cryptocurrency market in the wake of a cooling stock market.
A drop to $2,000 would be severe, but it's not that long since such a price would have been considered impressive. Bitcoin started off 2017 at $998 per token, gradually rising in value before hitting an all-time high of $19,343 by December 16. Analysts at the start of 2017, predicting a good year, suggested a price of $2,000 was feasible.
While Bitcoin still dominates the market, a number of forks have made changes to the original project. A fork of Bitcoin Cash, scheduled for May 15, makes changes to the block size in a similar fashion to Bitcoin Cash itself when it forked from Bitcoin in August 2017.
Bitcoin may be on the up, but it could get a lot tougher soon.