'Flash' Actor Ezra Miller Wants to Fight Savitar, of "Who Is Savitar?" Fame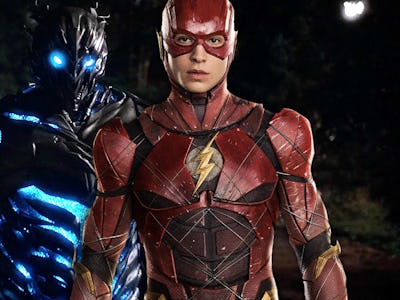 The CW, Warner Bros. Pictures
Remember when Savitar tore up the screen as the villain of The CW's The Flash Season 3? And how the internet had a billion theories as to who Savitar could be? That was fun, even if the story wound up making zero sense in the end. But Savitar, an enemy speedster created by Mark Waid in the '90s, is apparently a favorite of actor Ezra Miller, who would love to square off with Savitar in the DC cinematic universe.
At the Justice League panel at Wizard World Philadelphia 2018, Ezra Miller and Ray Fisher, who played The Flash and Cyborg respectively in Zack Snyder's Justice League last November, were asked which villains from the comics they'd love to fight against. Fisher revealed he would love to fight Superman villain Brainiac, while Ezra Miller went deep into Flash's comic book lore.
"There's a lot that just come from the world of the Flash and various Rogues," Miller said. "It's hard to choose a favorite. Savitar, I really love those — a lot of those plotlines. So, I'll say that for now."
Though he was a villain for an arc in Waid's lengthy run on DC's The Flash comics in the '90s, the live-action version on The CW series catapulted Savitar into a more popular character. But the two versions wildly differed from each other. In the comics, Savitar was a powerful speedster who led a cult that worshipped the Speed Force.
But in the TV series, Savitar was (spoilers!) a future version of Barry Allen, a "time remnant" abandoned by his friends for being an aberration in the timeline. In seeking revenge, this evil future Barry reinvented himself as the "God of Speed," adopting the name of the Hindu deity Savitr and stepping into a humongous suit of armor that made him look like Megatron from Transformers.
The status of the stand-alone Flash movie in the DC film franchise remains unknown. Rumored to be titled Flashpoint, the project has gone through several directors, including Seth Grahame-Smith (Abraham Lincoln: Vampire Hunter) and Rick Famuyiwa (Dope). Currently, John Francis Daley and Jonathan Goldstein, whose credits include 2011's Horrible Bosses, 2015's Vacation, and 2017's Spider-Man: Homecoming, are slated to direct the Flash movie.
The Flash's first movie is scheduled for release in 2020.