Victoria the Rhino Carries the Future of a Near-Extinct Species in Her Womb
She's a southern white rhino with a lot of potential.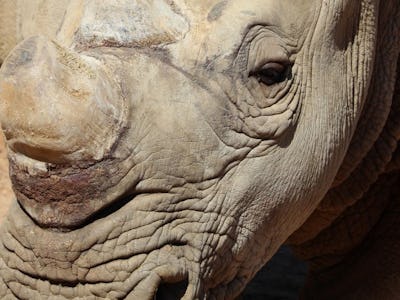 San Diego Zoo Safari Park
When Sudan died in March at 45-years-old, we moved one step closer to losing northern white rhinos as a species. The last male of his kind, only two other females now remain — each unable to carry an infant. If northern white rhinos are to evade extinction, science and surrogate mothers have to intervene. So while these animals are native to Kenya, their future may rest in San Diego.
Researchers affiliated with the San Diego Zoo Safari Park announced Thursday that one of the park's six female southern white rhinos has become pregnant through artificial insemination. The hope is that if Victoria, now two months pregnant, successfully births a baby southern white rhino, she'll be a good candidate for becoming a surrogate mother to a northern white rhino. The two subspecies are closely related, although 17,460 southern white rhinos still exist in the wild.
Ultimately, conservationists hope to create a herd of five to 15 northern white rhinos and return them to Kenya. But that goal is a long way off: So far, scientists have been unable to recover viable white rhino eggs from the remaining females, so the focus is creating an embryo from the preserved frozen cell lines of 12 different northern white rhinos. Researchers are currently working on transforming northern white rhino skin cells into stem cells, which could ultimately yield sperm and eggs.
"You need to somehow achieve embryo in vitro," Jan Stejskal, director of international projects at the Dvur Králové Zoo, one of the main institutions involved in efforts to save the northern white rhino, told Inverse in March. "This is a crucial thing for success. One way, through harvesting oocytes from live donors. The other way is you would achieve eggs or sperm through stem cell research."
But creating an embryo is only half the battle because the artificial insemination of rhinos in zoos is rarely successful. Researchers have determined a link between a lack of mating activity and the development of cysts and tumors in the reproductive tract of the female rhinos. In 2017, researchers at the San Diego Zoo Institute of Conservation Research, who are working with Victoria today, attempted to artificially inseminate a different southern white rhino named Amani. The 20-minute procedure happened without complication but did not result in pregnancy.
Victoria is another shot at success and she'll continue to be closely monitored by scientists over the next 16 to 18 months of gestation. If she carries a calf to term, then she very well becomes a candidate for northern white rhino motherhood. "Pregnancy is not only important for the individual rhino's reproductive health," director of the zoo's conservation research Barbara Durrant, Ph.D. explained in 2017, "but also when we make northern white rhino embryos, we would never risk putting a precious northern white rhino embryo into the uterus of a female who was not proven to be reproductively fit."