iPhone 8s: Here's What Apple's Most Exciting 2018 Release Might Look Like
Throwing it back to 2013.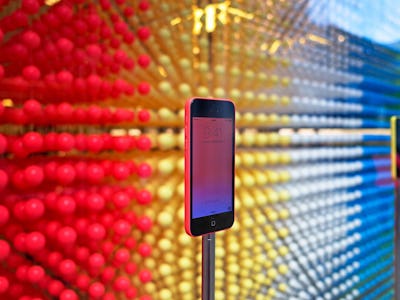 Gadgetmac // Nest Photo / Flickr
Yeah, we know a lot of rumors about the iPhone X Plus. But what will the other 2018 iPhones look like when release dates are announced in September? Will one be called the iPhone SE 2, iPhone 8s, or something else entirely? Will its specs be worth the rumored lower price? Apple fans have a lot of questions. But thanks to a new rumor from a trusted source, now we have a clue about the more affordable iPhone said to be revealed in this year's keynote event.
Here it is: Apple might be looking to the iPhone 5c for design inspiration. Yep, the 5c, that candy-colored cutie from all the way back in 2013.
iPhone 8s or SE 2: Colors, Specs, and More Rumors
According to a note written by analyst Jun Zhang that was leaked by AppleInsider, Apple "could launch multiple colors for the iPhone 8s (LCD model)" during the latter half of this year. This rebirth of the iPhone 5c could include blue, yellow, and pink options and would be priced at around $799.
iPhone 8s or SE 2 Rumors: Can We Trust the Leak?
Zhang works for the investment firm Rosenblatt Securities, which has sources in Apple's Asian Pacific supply chain. However, AppleInsider noted, Zhang's report did not cite any of the firm's usual sources, making this prediction speculative at best.
Though the analyst attempts to back up his assertion by claiming that this could be a move to target a "younger consumer market." Apple has also made it a habit of releasing three new phones every year; a more affordable, brightly colored smartphone along with the two other rumored releases would keep the company's release cycle consistent. (The other two models said to debut this year are reportedly a larger "iPhone X Plus" and an update to the regular iPhone X.)
iPhone 8s or SE 2 Rumors: Heck Yeah, Bring Back the 5c!
Looking back, the iPhone 5c was kind of an unsung success. It stood apart from all of the other 2013 models. According to Forbes, the smartphone drove more profits than the iPhone 5, yet it was often painted as a flop by the media. This could have had to do with how Apple's brand is perceived by the public. The usual iPhone is seen as cutting-edge and exclusive, while the 5c was geared toward the masses.
But in a time when people are disgruntled by the steep price tag of the iPhone X — and maybe uninspired by the two available colors, silver and space gray — a revamp of this budget-friendly smartphone could be exactly what Apple needs.