'Avengers 4': Jon Favreau Teases Spoiler for Cut 'Infinity War' Character
Happy is a little happier.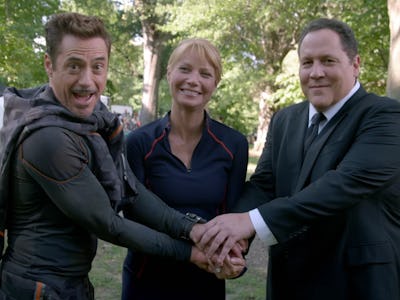 YouTube
At the red carpet event for the Solo: A Star Wars Story premiere Thursday, Jon Favreau was the final star of the movie to be interviewed, and after talking about Solo, he gave an Avengers 4 update along with news of the other Star Wars project he's working on.
Favreau, who provided the voice of Rio Durant in Solo, talked about the fun he had being part of the movie's band of rogues, but when asked on whether fans would see his face in a Star Wars film, he said how his face won't show up anytime soon in the franchise. However, he would make an appearance as Happy Hogan in Avengers 4.
In a behind-the-scenes featurette for Avengers: Infinity War, Favreau was on set with both Robert Downey Jr. and Gwyneth Paltrow at the park location, but his character did not show up in the final release of the movie. That means he was either cut from the film or that the park scene may show up again in Avengers 4 due to some sort of time jump. Favreau still did receive an executive producer credit for the film along with almost a dozen other producers.
Earlier in the interview, Favreau also gave a quick update about the live-action Star Wars TV show. He said he's halfway done writing the script for the series. Disney announced back in March he would take the helm for the new show.
Disney is making full use of Favreau in their two biggest franchises right now. Avengers fans will see him next year when Avengers 4 releases, and Star Wars fans will hear his voice as Rio Durant when Solo debuts in theaters on May 25.
In that park scene from Infinity War, Tony and Pepper Potts shared a moment together, and apparently a little more. Paltrow spilled the beans that the two characters would have a child together, which adds to the possibility of Avengers 4 taking place years after the events of Infinity War.