Iron Man's Bodyguard Is in Charge of a Live-Action 'Star Wars' TV Show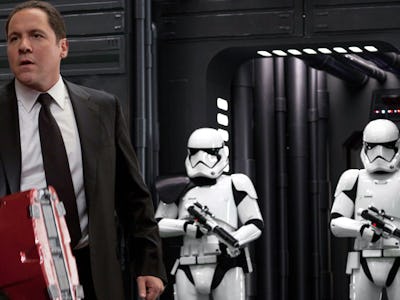 Disney
May the Happy Force be with you! A live action Star Wars show is coming at some point in the future, and it will be helmed by Tony Stark's bodyguard in the Iron Man movies, Happy, better known as Jon Favreau to Hollywood insiders.
On Thursday, Disney announced that a new Star Wars TV show will in fact happen, and it will be helmed by Favreau. Previously, Favreau directed Iron Man, Iron Man 2, and an indie-movie called Chef where he drives around in a food truck and learns how to use Twitter. Disney has not confirmed if the new Star Wars TV show will be using any of these themes, though a food-truck themed Star Wars show sounds pretty dope when you stop to think about it for one second.
Here's what Favreau said in an official statement
"If you told me at 11 years old that I would be getting to tell stories in the Star Wars universe, I wouldn't have believed you. I can't wait to embark upon this exciting adventure."
As with the forthcoming Rian Johnson Star Wars trilogy and the David Benioff and D.B. Weiss Star Wars movies, Disney and Lucasfilm haven't teased anything about what this series will actually be about, where it will be set nor what characters it will feature. The last time a live-action Star Wars TV was attempted was the project called Star Wars: Underworld, which was overseen by George Lucas. In 2017, Ronald D. Moore, one of the writers on the project told Inverse that show "would have been like The Sopranos," but set on the Imperial homeworld of Coruscant. That show was shelved in 2012, and since then several hints of a new live-action show have surfaced, though none have materialized until now. Notably, the only time any live-action Star Wars footage was shown exclusively on television was the 1978 Star Wars Holiday Special.
However, animated Star Wars shows have been airing since 2003, and the most recent series, Rebels, ended its run on Monday. So, the new Favreau show seems poised to fill that void. Will it take place during the original trilogy? Will we see live-action versions of Rebels or Clone Wars characters?
For fans of the Marvel Cinematic Universe, Favreau is probably the guy most responsible for its success because he directed 2008's Iron Man, which arguably made the whole thing possible. For that reason, it's a good bet he might guide a Star Wars TV to a successful future, too.
Still, burning questions persist. At present, it is unclear if Happy/Favreau will be taking time off from Stark Industries to work on the show, nor is it clear how Thanos's invasion of Earth will impact production or if Doctor Strange is capable of tapping in the Force or what.
And, as Star Wars.com says "The untitled Star Wars live-action series does not yet have a release date."
Favreau is expected to appear in Avengers: Infinity War, which will now be released on April 27, 2017.