Harley Quinn "Needs Friends," Margot Robbie Says of Possible R-Rated Movie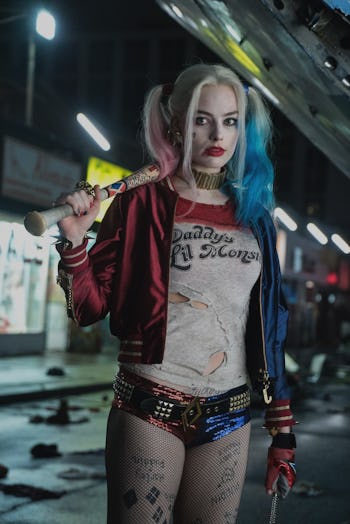 Warner Bros. Pictures
Harley Quinn may be obsessed with her puddin', the Joker, but she still needs friends. That's what Suicide Squad star Margot Robbie pitched for her standalone Harley Quinn movie, which the actress described as a "girl gang" movie aiming for an R-rating and based off the Birds of Prey comic books.
On Tuesday, while on the press tour for her new thriller Terminal, Robbie told Collider her pitch for the formally untitled Birds of Prey movie.
"I pitched the idea of an R-rated girl gang film including Harley, because I was like, 'Harley needs friends,'" Robbie said. "Harley loves interacting with people, so don't ever make her do a standalone film. She's got to be with other people, it should be a girl gang. I wasn't seeing enough girl gangs on screen, especially in the action space. So that was always a big part of it."
Based on Robbie's words, one can't help but think of Barry Allen in Justice League, where he tells Bruce Wayne that he too needs friends. (It was the best scene in the movie, bar none.)
Robbie is co-developing the project along with screenwriter Christina Hodson (Bumblebee) and director Cathy Yan, an ex-reporter turned filmmaker who directed the 2018 dark comedy Dead Pigs. Their Birds of Prey is to be set in the DC Extended Universe, sharing continuity with movies like 2016's Suicide Squad and 2017's Justice League, but the specifics are currently unknown.
In the comics, the Birds of Prey are an all-female team made up of members and allies of the "Bat Family." The original roster included the now-retired Batgirl, under the codename Oracle, Black Canary, a meta-human with sonic powers, and Huntress, a mafioso's daughter turned vigilante. Later, a time-displaced pilot named Lady Blackhawk joins the team.
Historically, Harley Quinn hasn't been a major antagonist to the Birds of Prey, nor has she ever been a member. However, in the 2002 live-action series Birds of Prey on the former WB Network (now The CW), Mia Sara played "Dr. Harleen Quinzel," a heavily-retooled version of Harley Quinn who served as the main villain during the show's short run of 13 episodes.
In enlisting her own "Birds of Prey" to helm the project, Robbie spoke of the importance of hiring a female director,. "They always get 'Here's the tiny little film.' I was like, 'I love action. I love action films. I'm a girl. What, are we meant to only like a specific thing?'" Robbie said. "So it was a hugely important to find a female director for this, if possible."
She added: "Cathy was the best director."
In addition to Birds of Prey, Warner Bros. is rumored to have other Harley Quinn projects, which Robbie told Moviefone she is not involved in. "I know that they were exploring Gotham City Sirens with David Ayer, and I know they were exploring a Joker and Harley Quinn movie," she confirmed. "I wasn't a part of those. I was focusing on this. I kept presenting it to the studio until they felt it was at a point where they were ready to do it. And now we're all in."
It is still unclear where in the DCEU Birds of Prey will fit, given that there is also a Batgirl movie in development that lost Joss Whedon as writer and director in favor of Hodson, who is now penning the screenplay.