Margot Robbie Discusses When She'll Suit Up Again as Harley Quinn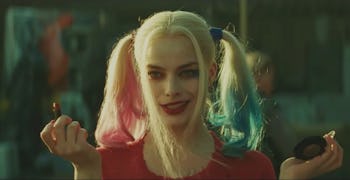 Warner Bros.
Like the rest of the DC Extended Universe, Harley Quinn's next appearance is a little up in the air.
Speaking to The Wrap at the Toronto International Film Festival, Robbie gave her best guess as to when we'll next see Harley Quinn in the DC Extended Universe. "I think next year I'll be back in the fishnets wielding a baseball bat," Robbie said. When pressed to see which movie this appearance would be for, Robbie replied, "Your guess is as good as mine at this point, I don't know."
Robbie could always be playing coy here, but it wouldn't be surprising if she legitimately had no idea where Harley would be showing up next. The character's expected to appear in three upcoming DCEU films: Suicide Squad 2, Gotham City Sirens, and film starring Harley Quinn and the Joker. But with so much confusion as to which actors are returning in future films, and exactly how many projects featuring Harley Quinn are actually in development, some of the DCEU's actors may be just as in the dark as the fans. However, it could also be that DC is trying to figure out how best to market the new way they're approaching their cinematic universe, and have instructed everyone to stay more or less quiet until they have it nailed down.
In The Hollywood Reporter's announcement of the Joker and Harley Quinn movie on August 23, they mentioned that Suicide Squad 2 was on the development fast-track and that the Joker/Harley film would be released afterward. And with Gavin O'Connor being hired on September 6 to take over the sequel from David Ayer, it seems reasonable to expect that this will be where Harley makes her next appearance. As the DCEU chugs along with November 17's release of Justice League, we'll likely know more sooner rather than later.
Suicide Squad 2 currently has no release date.