'The Batman' Director Says the Movie Isn't Part of the DCEU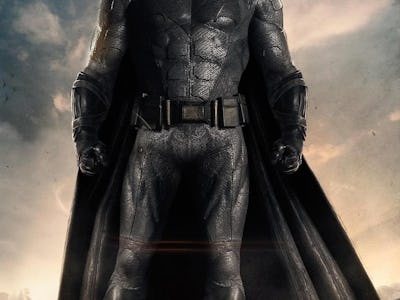 Warner Bros.
This article has been updated.
Holy movie canon, Batman! It looks like Ben Affleck's Batman in the Matt Reeves-directed movie — The Batman — won't necessarily be part of the same continuity of the other DC Extended Universe movies he appears in. According to Matt Reeves, the movie is a "stand alone." But what does that mean?
Fresh from War for the Planet of the Apes, director Matt Reeves is heading over to Gotham City to direct the next Batman film, titled The Batman, the solo movie that previously had star Ben Affleck attached to direct. But in a July 17 interview with Kim Masters on KCRW's The Business, Reeves revealed that Warner Bros. didn't — or doesn't — plan on having The Batman be part of the interconnected "DC Extended Universe."
"When they approached me what they said was, 'Look it's a stand alone, this isn't part of the Extended Universe'," Reeves said. "For me, I want to use the same approach that I've taken to everything, which is to find a personal way in, to do it from a point of view, perspective, to make it emotional. I want to do something with that character that's emotionally engaging."
To be fair, the words "stand alone" could mean a few different things. Maybe the movie is separate in the same way Patty Jenkins's Wonder Woman was stand alone; it's not necessary to watch Batman v Superman: Dawn of Justice at all to enjoy Wonder Woman, even if "Bruce Wayne" did play a part in the film.
Or maybe this is what it sounds like: The Batman is really in a totally separate continuity. Throughout the interview, Reeves discussed at length how important it was to do a movie according to his vision, which could have clashed with the direction of the DCEU. Reeves, who admitted he dropped out of the project for about a minute during the rumor cycle, actually said he's "totally fine" with not doing a Batman movie had the chips fallen that way.
"Here's the thing: I'm also totally fine not doing Batman," Reeves said. "It's not like I want to do any version of Batman. I want to do my version of Batman, and if that's exciting for them, which so far everything we've talked about is, then that's incredibly exciting because it means, wow, we're gonna do something we're really excited about."
"This is their franchise. They own the characters, they're gonna spend a tremendous amount of money. So I'm not asking anybody to do what they don't want to do. All I'm saying is, if we want to do the same thing, great. If they don't, that's also okay," Reeves added.
The director went on to rave about Christopher Nolan's The Dark Knight, which he essentially called the Joker's movie, in a matter that could hint to where The Batman goes with the mythology. "The Dark Knight, which I think is an incredible movie, the thing that resonates is the Joker," Reeves said. Because of Heath Ledger's Joker, Reeves believes the film "really resonated," because of the Joker and his "unsettling perspective" that clashed with Batman.
UPDATE: Matt Reeves has clarified his comments on Twitter, saying that his film will be part of the DC Extended Universe. It's just that it will not be in service to others. Reeves's tweets are embedded below.
The Batman is tentatively scheduled for a 2019 release date.