Bitcoin Price Hovers at $9,000, and One Expert Predicts $200,000 by 2020
Fran Strajnar sees a rally coming.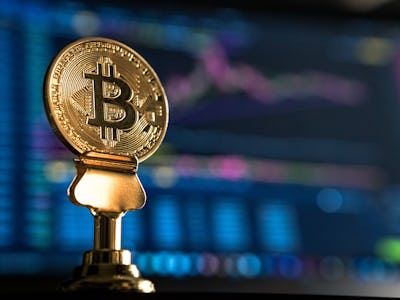 Flickr / Bestpicko
Could Bitcoin boom again? While the world's largest cryptocurrency held firm on Tuesday at the $9,200 price point, one expert has suggested Bitcoin's value could increase more than 20-fold in less than 20 months' time. Fran Strajnar, CEO of cryptocurrency research firm Brave New Coin, sees strong fundamentals and improving infrastructure as the key reasons behind an upcoming surge.
"The adoption rates are continuing to be quite steady, and adoption rates heavily correlate to the price, so therefore, unless for some reason people just simply stop continuing to adopt Bitcoin, we should see $200,000 per Bitcoin by 1st January 2020 at the latest," Strajnar tells Inverse. "Hashrates, number of wallets, apps, dapps … all that infrastructure is just steadily increasing, so adoption is most definitely happening and a lot easier to quantify, so we're fairly confident with the fundamentals of Bitcoin, and we're questioning a lot of the fundamentals of the [initial coin offerings]."
The jump would send Bitcoin soaring past the $19,343 all-time high achieved on Dec. 16, 2017, a near-2,000 percent increase in its value from the Jan. 1 price of $997.67. This was despite analyst predictions that Bitcoin would end 2017 at around $2,000 and $3,000 in value. Strajnar notes how hard these movements are to predict: "Last time I got asked this question I called $20,000 by 2020 and obviously that happened way earlier than expected, so who knows."
Plenty of analysts echo Strajnar's belief that Bitcoin is set to jump, though. Technology investor Tim Draper predicts a price of $250,000 by 2022, while John Pfeffer has predicted a price of $700,000 that displaces foreign income reserves.
For the coming year, more conservative predictions abound. Dan Morehead has predicted $20,000 this year, while Fundstrat co-founder Thomas Lee has predicted $25,000. Lee has compared the three-month slump after December to that of the Mt. Gox Bitcoin exchange collapse, which saw the cryptocurrency make losses in the short term but gradually rally past its initial price.
The best days for Bitcoin could be around the corner — or it could be a fuss over nothing. Dominik Zynis, co-founder of Wings, said last month that he predicts Bitcoin will drop to $2,000 at some point.