Analyst Claims Triple-Lens iPhone Set for 2019, and It Sounds Incredible
Apple could add an extra lens.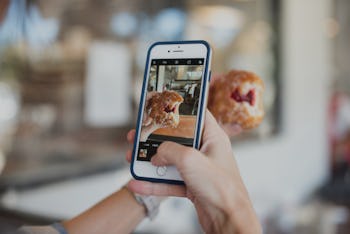 Unsplash / Callie Morgan
The iPhone could receive a major upgrade for next year's model. Yuanta Securities analyst Jeff Pu claimed in a research note last week that Apple is likely to launch a new device with a triple-lens camera in the second half of next year. The feature could enable higher image quality than before, and even boost the phone's zoom capabilities.
The note, shared by Taipei Times on Monday, is the latest in a line of reports that suggests Apple could add an extra lens to the dual-lens system introduced with the iPhone 7 Plus in 2016. The system offers two zoom levels, but also uses the differential information between the two lenses to produce effects like Portrait Mode that blur the background of a subject. A third lens could offer a number of benefits: a report last month claimed Apple would use the third lens to offer enhanced zoom with a 12-megapixel sensor.
It wouldn't be the first phone to go triple-lens. Huawei has leveraged the design decision for the P20 Pro Android smartphone, which offers a Leica-branded system with an eight-megapixel lens with triple zoom, a 20-megapixel f/1.8 monochrome sensor, and a 40-megapixel f/1.8 shooter. A monochrome sensor can enable higher image quality: the Essential Phone that launched last year claimed its implementation could capture 200 percent more light than a standard sensor, allowing the phone to combine with a color image to bring out more details.
Apple could also use the feature to boost its augmented reality offerings. The company rolled out "ARKit" with iOS 11 to enable more developers to create augmented reality apps. More information data can enable developers to create more immersive experiences. Focos, a free app for the iPhone X that launched in November, demonstrated how the dual-lens system captures a staggering amount of depth data that enables new features like 3D photo capture.
Apple may give hints about this future direction at the next Worldwide Developers' Conference, scheduled for June 4. The event will see the company unveil its forthcoming software updates for the iPhone, which could give the company the opportunity to offer hints about future camera capabilities.
Apple normally releases an early beta version of its next iOS update soon after the conference, so more info could surface soon.