Apple's iPhone 2019 Model Could Feature a Huge Camera Upgrade
It could lead to some big A.I. upgrades.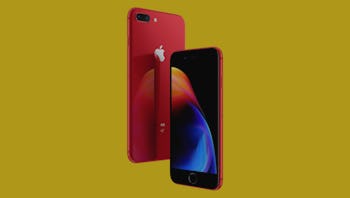 Unsplash / Lubo Minar
Apple may launch a new iPhone in 2019 with a third lens, according to new reports out this week. The additional sensor, which would complement the current system of a primary lens and a secondary with double zoom, would offer a staggering zoom that takes photos from five times further away than the primary sensor. With Apple's previous hints at more A.I. and augmented reality — something CEO Tim Cook loves — it could also lead to some stunning new applications.
Taiwan's Economic Daily News on Monday reported that Apple's third lens will offer enhanced zoom with a 12-megapixel sensor, but it's unclear whether the zoom will be optical or other means. It follows in the footsteps of the Huawei P20 Pro with a Leica-branded system, which offers a 40-megapixel f/1.8 shooter complemented by a 20-megapixel f/1.8 monochrome sensor, with the third acting as an eight-megapixel lens with triple zoom. Apple's current dual lens implementation, found on the iPhone 7 Plus, 8 Plus and X, is used for zooming and offers Portrait Mode, and Portrait Lighting effects by capturing depth information from the two differently-positioned lenses.
If the rumor persists, it would continue an extraordinary trend of adding new cameras to already-packed phones, a strategy that keeps the phone slim while providing zoom capabilities of larger single-lens reflex camera lenses. Apple has plenty of room to grow, though — the Light L16 camera uses 16 sensors to create 52-megapixel pictures and provide five steps of optical zoom, in a camera just under an inch thick.
The report also claims Apple's lens would use a 6P design like the current iPhone X, which uses a six-plastic array on the rear. Rumors last year suggested the company could move to a 2G3P array — two glass, three plastic — but the company will maintain the current design for now.
First up is this year's iPhone lineup. Expected to launch in the fall as usual, Apple is believed to introduce three new iPhones: a 6.5-inch model and 5.8-inch model that serve as upgrades to the existing X model, plus a cheaper model that uses LCD screens instead of the X's OLED technology.
After Apple's use of A.I. to offer blurred backgrounds with two lenses, it will be interesting to see what it can do with three.