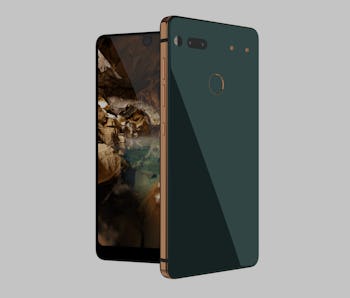 Innovation
The "Essential Phone" is the Magnet-Powered Future of Smartphones
Has the creator of Android ditched dongles for good?
Essential
A new high-end smartphone promises to end the nightmare of new dongles once and for all. The Essential Phone, launched Tuesday, is the brainchild of Andy Rubin, the co-founder of the company that developed the Android operating system. Google acquired Android in 2005, and its software now runs on the vast majority of the world's smartphones. Rubin's new device, which uses a unique magnetic system to attach accessories, could transform the market once again.
"For all the good Android has done, it has also helped create this weird new world where people are forced to fight with the very technology that was supposed to simplify their lives," Rubin said in a statement. "After a long talk with my friend, we decided that I needed to start a new kind of company to build solutions for the way people want to live in the 21st century."
The phone, priced at $699 for its initial United States launch expected this summer, packs a powerful set of tech specs. There's a Qualcomm 835 processor, 4GB of RAM and 128GB of storage. The rear camera packs a 13-megapixel sensor, twinned with a secondary monochrome sensor that the company claims can capture 200 percent more light than a standard sensor. On the front, there's an eight-megapixel single lens camera for taking selfies, and a 5.71-inch display will show off your photos with a 2560 x 1312 resolution.
But perhaps most impressive is the phone's use of a magnetic accessory attachment to enable future proofing. The clips provides power, while the phone establishes a wireless connection to the accessory to transfer data. No need to fish around wireless settings to connect a Bluetooth device, and the connector's power-only design could save buying expensive data-supporting dongles to switch device in the future. The first accessory, a 360-degree camera, uses two fisheye lenses to capture images ready for simple Facebook sharing.
The company plans to release a cordless connector later on to charge the phone through the magnetic attachment. The phone also supports USB-C for a more standardized charging system. Unfortunately, headphone jack fans will have to look elsewhere — Essential Phone does not include the 3.5mm connector on the device, but a USB-C to jack cable ships in the box. Just remember to take it with you when you leave the house.
Accessory connectors can be a complicated aspect of switching device, but it seems Essential has attacked the issue on two fronts. The magnetic connector could prove to be a simple, future-proof method of attaching extras without worrying about wireless pairing, while the inclusion of a standard USB-C port opens up the phone to a range of accessories. Apple's proprietary Lightning port, an oddity in the world of smartphones, means consumers need to buy Apple-specific accessories to expand their device, but its smaller port allows for sleek iPhone designs. Essential, which plans to open source the magnetic design later, has provided a widespread connector alongside its own design.
Initially, the phone will launch in black and white, but gray and blue versions will be available later.