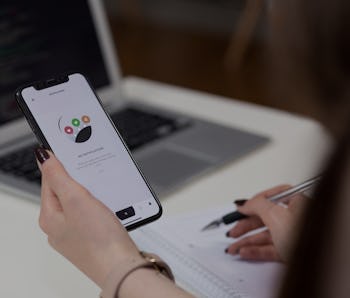 Innovation
This iPhone "X2" Leak Suggests Apple May Include a Long-Awaited Feature
The company is not standing still.
Unsplash / freestocks.org
Could fast charging finally be coming to the iPhone? Apple's 2018 successor to the iPhone X — already nicknamed the iPhone X2 — looks set to improve on the $999 device that's claimed the crown of world's best-selling smartphone for the past six months, potentially offering a new power brick that cuts down charge times.
The leak, spotted on social networking site Weibo this week, shows a redesigned power adaptor that offers 18 watts, charging an iPhone from 0 to 50 percent in half an hour and 80 percent in an hour. This would be a marked improvement over the current 5-watt power block that takes around two and a half hours to fully recharge an iPhone. While the iPhone 8, 8 Plus and X that launched in September 2017 all support faster speeds, Apple does not include the more powerful plugs with the phones, requiring users to opt for third-party solutions to avoid spending hours waiting to charge.
The new block would take advantage of the USB-C standard, a reversible plug intended as a replacement for other USB plugs, which offers a Power Delivery specification to enable faster charging to an appropriate level. Apple uses the same standard to charge the new MacBook and MacBook Pro products, but these chargers use between 29 and 87 watts and start at $49. Third parties offer cheaper alternatives, like the $21.99 Aukey USB-C charger, but Apple's decision would mean consumers could fast-charge from day one.
While the new plug would use USB-C, it's unlikely Apple would use the same standard to connect to the iPhone itself. The company has stuck with its proprietary Lightning port since the iPhone 5 in 2012, a decision that drew ire by making existing 30-pin docks obsolete without the use of a dongle.
Apple is expected to unveil its new lineup of iPhones this fall. Current rumors suggest the company will release three models: a 6.1-inch LCD model, a 5.8-inch OLED model similar to the current iPhone X, and a 6.5-inch OLED model — now nicknamed the iPhone X Plus — that acts as a larger version of the current phone.
The days of leaving the phone to charge overnight may soon come to an end.