'Star Wars: Episode IX' Time Jump Rumor Means Teenage Broom Kid is Possible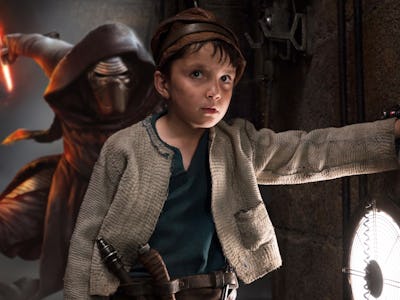 Lucasfilm
With Star Wars fans focused on Solo: A Star Wars Story, and all celebrations around May the Fourth, it's time to talk about what really matters: that kid with the broom at the end of The Last Jedi. What's up with him? Do you like him? Do you want to see him again? Well, if that rumored time-jump between Last Jedi and Episode IX really happens, then it makes a teenage version of Temiri "the Broom Kid" Blagg totally possible. Here's why. Pure speculation ahead. But if this fan theory turns out to be a spoiler, don't get mad. (Anger leads to the dark side anyway.)
On Monday, John Boyega sent fan theories into hyperdrive when he mentioned that Finn will have longer hair in Episode IX than he did in The Force Awakens or The Last Jedi. This can only mean one thing: some time will pass between The Last Jedi and Episode IX. But, how much time? Within the classic trilogy, about three years pass between A New Hope and The Empire Strikes Back and less than a year passes between Empire and Return of the Jedi. In the new trilogy, literally zero time passes between the end of The Force Awakens and the beginning of The Last Jedi. But…there's a ten-year time jump in-between The Phantom Menace and Attack of the Clones. Which, seems like the model for what could happen to the broom kid. We see him as a little kid in The Last Jedi, and BOOM, he's a badass teenager in Episode IX!
Search your feelings, you know some element if this theory might be true. Look, if J.J. Abrams made the Broom Kid a major character in Episode IX, it might feel a little cheap. But, a secondary or tertiary character who shows up with a bespoke lightsaber to save the day at some point?
The ending of The Last Jedi clearly establishes there are a lot of Force-users out there who are totally unaccounted for. If the Force really woke up from a nap in The Force Awakens, it's practically carousing by the end of The Last Jedi. So, if there's a time-jump between Last Jedi and Episode IX, there could easily be dozens of Jedi-ish folks running around, using the Force for good or evil.
We don't know much about Temiri Blagg right now. The official Star Wars databank says this about him: "Temiri Blagg leads a forlorn existence in the shadows of Canto Bight's wealth, caring for fathiers in stables ruled by the iron-fisted groom Bargwill Tomder." That's pretty much it.
And yet, it would be crazy if we didn't see him again. If the Star Wars saga really moves forward several years, let's hope it's long enough for the broom kid to grow up. -Star Wars: Episode IX is out in theaters on December 20, 2019.