Henry Cavill Is Anxious to Suit-Up As Superman Again, But Doesn't Know When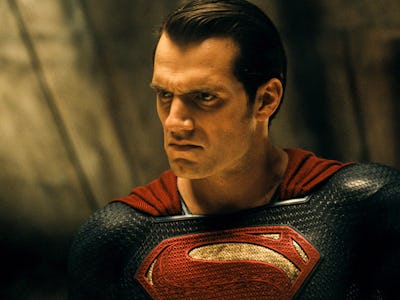 Warner Bros
Few would dispute how poorly the DC Cinematic Universe handles its many characters, especially Superman, and it's starting to seem like Henry Cavill, who's played the character since 2013, might be just as frustrated as the rest of us. At the very least, he's anxious to put his cape back on to prove that he's a great Superman.
In an interviewed published Wednesday night with Fandango at CinemaCon, Cavill talked about the future of his Superman on the big screen, revealing that there are no confirmed plans or production timelines for the next time he'll suit up. When asked about when we might see him as Superman again, Cavill said, "I can't answer that definitively right now." That might sound like carefully crafted dodging, but the rest of his answer implies something closer to "nothing is happening" rather than "I can't talk about it right now."
"I'm hoping sooner rather than later," Cavill added. "I've been talking to certain people and hopefully, we're going to start talking to other people who are responsible for making those calls — and we shall see."
Here's Cavill's response:
Way back in August 2016, unconfirmed sources said that Man of Steel 2 was in "active development," which was apparently a lie. Here we are almost two years later and there's virtually no progress on the project. (Never trust unnamed and unverified "sources," folks.) And originally scheduled for the end of 2019, Justice League 2 was seemingly pushed back indefinitely in favor of more solo films. So with no Justice League or Man of Steel planned, when could Cavill's Superman show up?
Aquaman is coming later this year with Shazam! due out April 5, 2019. Beyond Wonder Woman 2 being scheduled for November 1, 2019 things look a bit murky for the future of the DC Cinematic Universe and for Superman. Outside of a potential cameo in Shazam!, Cavill's Superman is officially benched.
Cavill's first go as Superman in Man of Steel was more than five years ago, so it's about time he got a legit "Superman Movie" under his belt. After all, Cavill's a really "good" Superman that's been stuck inside a "bad" series of movies.
After grimacing his way through three and a half films, Henry Cavill's Superman got quite literally resurrected in Justice League. It was only for that last confrontation against Steppenwolf that Cavill could play the noble hero he signed up for. No frowns, no punching his friends in the face, no mumbling about "Martha." Just an honest-to-goodness superhero fighting for truth, justice, and the American way — one that could laugh with Cyborg over a bad joke when the dust settled. Finally, Superman became the good-natured beacon of hope that Batman always promised. But now he's benched for the foreseeable future.
For Superman fans, it's looking pretty bleak, and no Superman fan seems more disappointed right now than Superman himself.