'Dark Knights' Has a Villain Perfect for 'Justice League 2'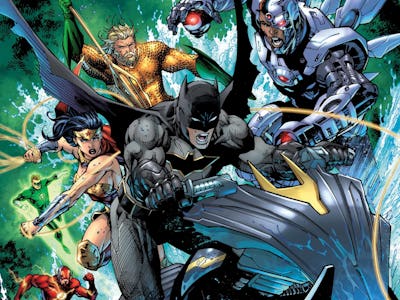 DC Entertainment
DC is underway with its crossover event series of the year, Metal, spearheaded by famed Batman writer Scott Snyder. Within the pages of issue #2, Barbatos, the demonic duke of hell reinterpreted as an evil god, has finally arrived in the DC Universe. Already Barbatos has become such a fearsome threat that he would do excellent on the big screen in the inevitable Justice League movie sequel.
Spoilers for Dark Days - Metal #2 are below.
What Happened:
After months of teasing during Dark Days: The Force and Dark Days: The Casting earlier this summer, Barbatos is here. In issue #2 of Metal, which came out this week, the Court of Owls — who assumed they were heralding the return of a more benign demigod — tricked Batman into opening the door for Barbatos to come to the DC Universe.
A monstrous bat-god from beyond the veil, Barbatos is accompanied by seven mean-looking "Batmen," who hail from different worlds within the Dark Multiverse. Metal isn't just intense, it's also huge, and in the final pages of Metal #2, Barbatos and his Batmen are now free.
What It Means:
Loosely based on the demonic figure in medieval Jewish folklore (Barbatos is the eighth demon in the Lesser Key of Solomon), Barbatos has been around in the DC Universe before. Way back in 1990, in Peter Milligan and Kieron Dwyer's Batman storyline "Dark Knights, Dark City," flashbacks reveal Barbatos terrorizing America's Founding Fathers who visited colonial Gotham. Trapped in a barn, the Riddler tries to free him to get to Batman, but Batman learns that Barbatos has been controlling Gotham, right down to orchestrating the murder of Thomas and Martha Wayne.
Barbatos then returned, kinda, during Grant Morrison's run on Batman in the late 2000s in which Batman is flung back in time. Although assumed to be Barbatos at first, the creature stalking Batman wound up being the Hyper-Adapter, who took the form of a giant bat.
What's Next:
Metal is not only the culmination of Snyder's acclaimed Batman run going back to 2011, it's also an epic crossover with Batman and his entire mythology front and center. This makes Barbatos a compelling villain for whatever will become Justice League 2.
While the upcoming film will see the League form together for the first time against Steppenwolf, Barbatos is a more personal villain without losing any of the overwhelming stakes indicative of a DC crossover; it was Barbatos who "created" Batman after all, and Zack Snyder has repeatedly shown how much he loves medieval aesthetics in superheroes.
Whether he's with our without the seven Nightmare Batmen, Barbatos should make his presence known in the DC Extended Universe sooner than later.
DC's Dark Knights - Metal #2 is available now. Metal #3 will be released on October 11. Justice League will be release in theaters on November 17.