'Fortnite' Week 10 Challenges Are Live, And You'll Need a Lot of Headshots
Epic Games has seven new tasks for players.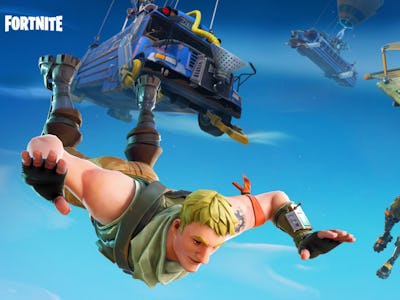 Epic Games
Epic Games has taken the wraps off Fortnite's Week 10 challenges. At 4 a.m. Eastern time on Thursday, the developer unleashed seven new goals for players that own the Season 3 Battle Pass. Gamers that want to earn big experience points will have to think with their head, as one task requires players to rack up 250 points of headshot damage.
The challenges come after the version 3.6 content update, which brings a sticky Clinger grendae among other changes. The new weapon is like a low-tech version of the plasma grenade found in the Halo series, except instead of cutting-edge glowy alien tech, it's a grenade threaded onto a toilet plunger. Unlike PUBG, Fortnite never cared much for hyper-realism, instead opting for more of a Team Fortress 2-style Pixar feel.
Players looking to try out this week's challenges will need the current season pass, available for $10 or 950 in-game V-Bucks. The launch comes just ahead of Season 4, with the current season expected to end on April 30. That means current players may not get a full week to complete the challenges, but also means Epic Games may finally answer some of the questions about the big ball of rock hurtling through the sky. While Tilted Towers wasn't destroyed on April 18 as expected, it's perhaps a testament to the dedicated community that players destroyed the area themselves through a coordinated attack.
Before Season 3 draws to a close, there's one more chance to pick up some top experience points.
The Challenges for Week 10 of Fortnite Season 3
Search Chests in Fatal Fields. Search seven chests for this five-star goal.
Deal headshot damage to opponents. Cause 250 points worth of damage through headshots for five stars.
Search a Chest in different named locations. You'll need to look for a different chest in 12 locations for this five-star challenge, so think places like the meteor-plagued Tilted Towers.
Skydive through floating rings. Jump through 10 hoops for this five-star challenge.
Search between a Stone Circle, Wooden Bridge, and a Red RV. This cryptic 10-star challenge requires you to look for treasure using these clues.
Eliminate Opponents. Bump off 10 opponents for these 10 stars.
Eliminate opponents in Pleasant Park. You'll need to eliminate three opponents in the Pleasant Park named location to win this 10-star challenge.
And that's it! The weekly challenges from the previous nine weeks are still active, so if you didn't get around to last week's challenges, there's still time to grab some extra wins.