Watch the Tesla Model 3's Stunning Power in Autocross Footage
It wasn't the fastest, but it saved the most gas.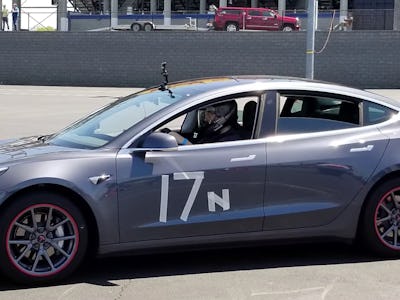 YouTube
Electric cars tend to not have a reputation for being "fast" cars. That was until the Tesla vehicles came out. Not only have some Tesla owners customized their vehicles to add more power, one driver showed what his Tesla Model 3 can do on a race course.
A video posted on the Tesla Racing Channel YouTube channel Tuesday shows a how a Tesla Model 3 handles an autocross track. The driver and owner of the vehicle, CJ Couch, sped through the course in his Tesla at the ZMAX Dragstrip in Charlotte, North Carolina. He recorded a run of 66.94 seconds, which was not the fastest, but was able to outperform a few vehicles such as a 1990 Mazda Miata, 2009 Subaru WRX, and a 2013 Volkswagen Jetta SportsWagen. When one YouTube commenter scoffed at the video saying the Tesla Model 3 had "no heart or soul," Couch had some choice words about riding in a Tesla.
"Anyone who has ridden in a model 3 would very much disagree with it being 'soulless,'" he said. "This car is a blast to drive. Everyone gets out with a smile."
In other comments, Couch pointed out that the Model 3 has original equipment manufacturer (OEM) tires, which was why there was a lot of noise from the tires. He did five runs with his Tesla and had a 1480 wh/mile efficiency on his 3,680-pound vehicle and said he could have run all day.
Later in the comments, Couch said he would be up for racing at the Pikes Peak International Hill Climb, which takes place in Colorado Springs, Colorado. He'll likely take another video to show how the Tesla Model 3 handles the course.
Although Couch seems to be happy with his vehicle, Tesla CEO Elon Musk is hard at work to get production of the vehicle back on tracks. Last week, he stopped work on the Model 3 line, but has plans to start producing up to double the amount of vehicles in May.