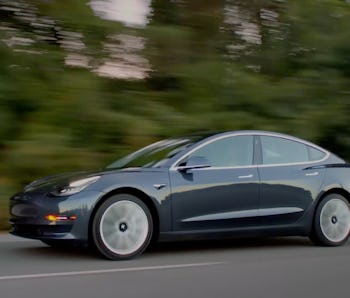 Innovation
Here's When Tesla Will Meet Its Ambitious Model 3 Production Goals
Elon Musk has a big task ahead of himself.
Tesla
Tesla is undertaking one of its most ambitious missions yet: expand beyond its premium customer base and offer a mass market electric vehicle starting at $35,000. But 10 months after the Tesla Model 3 entered production, relatively few of the approximately 400,000 that placed a $1,000 reservation have been invited to customize their car and complete their order.
CEO Elon Musk is facing one of his toughest challenges of getting the car into the hands of as many people as possible. Musk suggested at the July launch event that Tesla could reach a build rate of 5,000 cars per week as soon as December 2017, but issues with a subcontractor led to significant delays. While the company only produces around 2,000 Model S and Model X vehicles per week, it remains confident that it can expand production at high speed. Failure to do so could mean angry customers, canceled reservations and even Tesla raising capital to continue operations.
Here's how Musk originally envisioned production:
Here's how production is currently looking:
Current Rates
The latest official production report came out at the start of April and paints a promising picture of future growth. Tesla made 9,766 Model 3s in the whole quarter and produced 2,020 in the past seven days. This was a strong improvement over the 2,425 Model 3s produced in the fourth quarter and suggested the company was moving past the growing pains.
Leaks suggest the company has maintained this momentum, producing 2,000 Model 3s per week in a three-week timespan, with rates of 2,020 in the first week, 2,070 in the second and 2,250 in the third.
What Tesla Claims
A leaked e-mail on Tuesday from Musk has shed light on the company's internal goals. The company has two upgrade plans outlined that will boost production in steps from the current 2,000-per-week rate.
This week, Tesla stopped production for between three to five days at both the Fremont and Gigafactory plants. This pause is to undertake "a comprehensive set of upgrades," and it should enable the company to boost production to between 3,000 to 4,000 per week in May.
A second set of upgrades in late May will boost the potential burst rate to 6,000 Model 3 vehicles per week by the end of June. The reason that it's a burst rate is because the company can only move as fast as the slowest part of the supply chain, so while the company may reach the capacity to produce cars at a 6,000-per-week rate it's hard to estimate for sure when Tesla's suppliers can reach this rate.
By June 30, all areas of the company and all its suppliers will need to prove that it can meet a rate of 6,000 cars per week by producing 850 sets of car parts in under 24 hours. Anyone that fails to do so will need to explain why alongside a plan for reaching this rate.
Beyond a crackdown on the supply chain, Tesla will also move the Fremont plant to 24-hour operations. From there, Tesla expects to move to a consistent production rate of 6,000 cars per week "a few months later."
What Analysts Think
Matt DeLorenzo, managing editor of Kelly Blue Book, told CNBC on Wednesday that the company will need to find a production partner to maintain momentum and reach 6,000.
"They need to partner because they have been doing this stop-start thing. Now the batteries may have an effect on that, but if they are going to hit a 6,000 run rate they are going to need a lot more people and better management to get that kind of throughput," DeLorenzo said.
Oppenheimer analyst Colin Rusch told the publication that he saw the bottleneck originating from the 2170 cells used in the new vehicle, and any boosts will depend on how many batteries can fit the new spec.
Goldman Sachs was notably dismissive of Musk's projections, offering a downbeat forecast at the state of the month of just 1,400 cars per week for this quarter, which would push Tesla to return to the markets to raise capital.