Lyrid Meteor Shower: How and When to See the Spectacle on April 22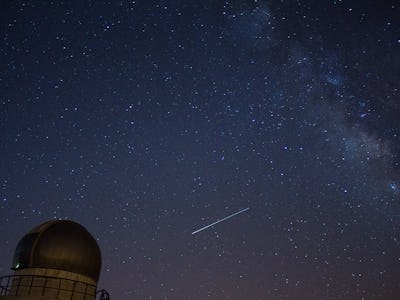 Flickr / iahvector
If you missed the Quadrantids meteor shower in early January because of that pesky "bomb cyclone" that battered the East Coast of the United States you're in luck because more celestial craziness has already begun. The annual Lyrid meteor shower started its heavenly light show on April 16 which will last until April 25. The best part is that it's visible all over the world during the few hours before dawn.
The Lyrids will peak on the night of April 22 and morning of April 23 with about 10 to 20 meteors streaking across the sky if you're watching from an area with little light pollution. This celestial event will appear to be radiating from the Lyra constellation, right next to Vega, the fifth brightest star in the sky. So dust off your telescope and break out your favorite astronomy app to make sure you know where to look.
Join our private Dope Space Pics group on Facebook for more strange wonder.
While the Lyrids might seem like they're emerging from the darkness, they're actually caused by the comet C/1861 G1 Thatcher. This cosmic object sheds particles of dust and debris, which are responsible for the annual meteor shower. The Lyrids have been observed for well over 2,000 years — making them one of the oldest known meteor showers — yet Thatcher was first discovered in 1861 by amateur astronomer A.E. Thatcher as he was scanning the skies above his New York home.
The comet's debris has sometimes been observed to produce "Lyrid fireballs," which are very bright meteors that leave behind a smokey trail and cast a shadow for a split second.
While it still might be pretty cold for Spring, at least there aren't sub-zero temperatures and half a foot of snow keeping you from stargazing this time.